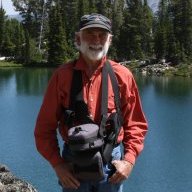 Joined

Sep 30, 2014
Messages

474
Well after a couple dozen nights in this tent under a rather wide range of conditions, I have come to the conclusion that this probably wasn't a good choice in a tent for our use.

Bitches:
The zippers in both the doors and fly are a royal pain in the posterior. The tent door zippers are as often as not, a two handed affair because they hang up between the transition between the skeeter net and ripstop. The fly zippers are close to useless when wet. They zip ok from the outside but from the inside, the storm flap will be en-trained in the zipper several times before you manage to get them open or closed. This would have been any easy fix with very little additional weight by sewing in a little heavier fabric in the storm flap.

And the biggest bitch:
The ventilation system is totally inadequate in any temp below the mid 40's. The only way to not have interior rain in the morning is to leave the fly un-zipped and that is most definitely not an option sometimes. Combine that with the great fly zippers, and you get to have a cold shower getting out of the tent each morning.

And last, we are getting a bunch of "runs" in the netting around the doors.

While this tent may be a great choice for someone in a warmer climate with its light weight, easy set-up, and very good use of space, in my opinion, it comes up way short for use in the Northern Rockies. I'm in the tent hunt again.