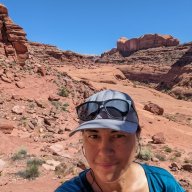 Joined

Jan 11, 2018
Messages

463
It's looking highly likely that we'll be getting a new president and cabinet. \o/ If you were Biden, what would you prioritize from a public lands and environment standpoint?

My list (not in a any particular order)
1. Rejoin the Paris Climate Accord, and lay the groundwork for a transition to alternative energy.
2. Restore the original GSENM and BENM boundaries.
3. Reinstate the protections for Arctic Wildlife Reserve and Tongass National Forest.
4. Restore the Obama clean water rules.
5. Restore EPA regulatory enforcement the Trump admin claimed was an industry hardship during COVID.
6. Reinstate the endangered and threatened species protections rolled back by the Trump admin, and restore the ban on inhumane hunting practices.
7. Restore the NEPA process to its original scope.