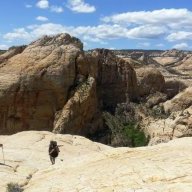 Joined

Feb 2, 2017
Messages

8
Hey Bp,
I've been itching to get to the alpine lakes by the brown cliffs in the Wind Rivers. I've done alot of research, and there are tons of routes to get over the divide. If you've been up there please let me know what route you did and how it went. These are the routes i've found so far:
From Elkhart Park TH:
Over indian pass and the knife point glacier
Over the pass near lake 10842 above wall lake
over the pass following the inlet to lake 10950 which flows to spider lake
Over angel pass near spider lake
From Meadow Lake TH:
Over the pass by lake 11045 above timico lake
Or over Hay pass, i'm not sure which TH would be best for that.
Here is the caltopo link for the area:
https://caltopo.com/map.html#ll=43.07967,-109.54456&z=12&b=t&o=r&n=0.25
Any info is greatly appreciated! I am looking for the shortest easiest route up there, i'd like to get up there quick and set up a nice base camp to explore.
Thanks!
Kelin