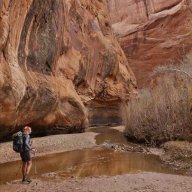 Joined

Jan 4, 2015
Messages

2,755
Interesting question came to mind recently - where are the best mountain destinations to go off-trail backpacking? I've spent the past year or so tossing around ideas for big off-trail routes through some really killer scenic areas.
In particular, these places, as I've idealized them, are largely above treeline, contain crossable passes, don't have trails already in the area, and are exceedingly scenic. These are places where you don't just hop off the trail for a little bit to go bag that peak - it's where your route takes you cross-country for extended periods of time. Premium examples include:
Winds
Sierra
Beartooths
San Juans
Northern Tetons

Bighorns
Some places, like the Tetons between Granite and Paintbrush canyons would serve well for off-trail travel but there's a multitude of trails already so it almost seems a little contrived to try and head off-trail simply for the sake of saying you were hiking off-trail. Others like the Cascades, have amazing alpine peaks but almost all basins are below treeline, making extended off-trail travel a bushwhacking proposition.
What areas do you think would be good for extended off-trail routes? Any firsthand experiences?