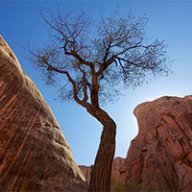 Joined

Aug 9, 2007
Messages

12,940
First off, no, I am not shopping for Nikita's replacement just yet. I'd like to think she still has a few years of lounging around the house and going on shorter day hikes.
But I've been thinking lately about what characteristics make the perfect hiking dog. Here are some that I can think of:
1. High tolerance to big temperature swings. Able to keep relatively warm on cold nights and a lighter colored coat to help reflect the suns rays on hot days.
2. Athletic, sporty kind of build good for long hauls. Probably a mid-sized dog.
3. Brave and confident to get through all of the potentially scary obstacles and various other challenges that would send some dogs running into the woods.
4. Fiercely loyal.
So what breeds would fit the bill?