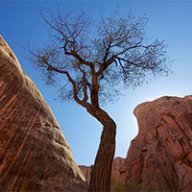 Joined

Aug 9, 2007
Messages

12,940
Last weekend while hiking through the Zion Narrows, I bent the hell out of one of my trekking poles. It was quite a surprise. I was using my Black Diamond Ergo Cork poles, my favorites. I've hiked hundreds of miles with them and seen them bend so far but they've always sprung back. But this time the hole thing was nicely curved and even after bending it back the best I could, there was no collapsing the pole.
So I took them into Black Diamond today. I was half expecting them to just give me a new set of poles, or at least a new set of lower shafts. Seems like outdoor companies have gotten to the point that it's almost an expectation to go above and beyond on warranty issues. Hell, I sent in a 5 year old air core pad to big Agnes that I couldn't find a leak on and they sent me a brand new one!
Anyway, BD wasn't so nice. Don't get me wrong, they were cool about it and totally nice to me. But they didn't by any means pull a Big Agnes or an Osprey. Instead they charged me $40 for a new set of lower segments for my poles.
Just thought I'd share that in case anyone else ever ruins some poles. It won't be warranty but $40 is probably better than the $140 I paid for them new and I am kinda sentimental about the top parts.