Joined

Feb 23, 2012
Messages

648
Back in May I was going to end my Bryce-to-Moab hike going through the Behind the Rocks area outside of Moab. It's an area I'd never explored so I was anxious to check it out, but alas that hike didn't go as planned and I had to cut it short. But... last week I got an opportunity to head back to Moab and explore the region. Besides just having fun wandering through the area, I set out with three specific goals:
1) Find a backpacker-friendly route from the Moab Rim through the fins to Pritchett Canyon
2) Find a route off the high cliffs down into Kane Springs Canyon
3) Find a reliable source of water
To expedite matters I only took my pocket camera on this hike. I still shot some video and may add that along with more pictures and detailed maps to my site (
www.AcrossUtah.com
) soon, but for now... here's the basic report via select pictures: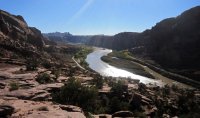 Looking back on the Colorado River and late-afternoon sun as I climbed up from the Moab Rim trailhead. I shared this section of the trail with a group of 4-Wheelers and several guys on motorbikes.
At the top of the slickrock were nice views over Moab and to the La Sal Mountains. Private property keeps one from descending right into the town: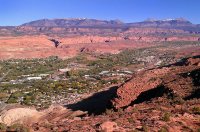 Soon I left the trail behind and headed into the jumble of rocks. Travel from this point on took quite a bit of up and down, back and forth to make it the next mile or so: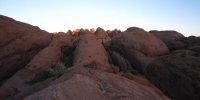 I found the "kidney bean" mesa where I camped above Pool Arch in the heart of the rocks. I barely made it before it was head-lamp time. It was quite a bit darker than it appears here: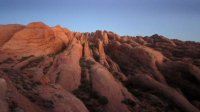 Sun up on my camp the next morning.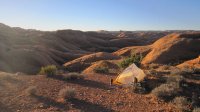 I could somewhat see Pool Arch from where I camped, but hiked down to take a closer look.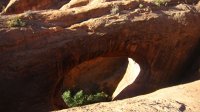 From Pool Arch I headed up between the fins to the south via a route I had scouted on Google Earth. It was much harder in real-life, but I was pleased the route always went through (albeit with a lot more of the up and down, back and forth as was the way the previous day -- now with some brush to make it even more complicated.)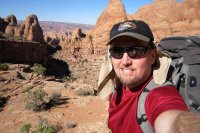 At the top of what I dubbed "Spire Pass" so named for the prominent spire towering above the ascent route. In this photo behind me is the long corridor which I just came up -- Pool Arch would be way back down there somewhere.
From the pass I made my way back down the next gulley and all was fine until my intended route led to a huge chasm. I could see where I wanted to go -- but couldn't get there from here: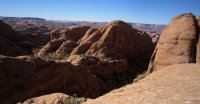 Instead I would have to wind up around the head of the next canyon. There were two spots along the way I thought I was ledged out, but each time luckily there was one small ramp providing access up/down.
The canyon going down was quite a bit more open and had some cool balanced boulders which likely fell from high above: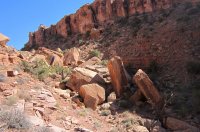 Before too long I hooked up with a defunct Jeep road near Troll Bridge:
Shortly after that I was at the Pritchett Canyon Jeep Road. Goal #1 complete!
Traveling up Pritchett Canyon was much easier as I was back on an established path. Besides the crazy 4-wheel route, there were many cool sites to see. I dubbed this formation the Sitting Llama Rock (Pritchett Arch partially seen in the bg):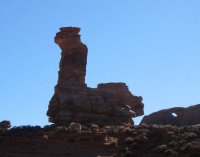 Window Arch along the White Knuckle Hill part of the Jeep route: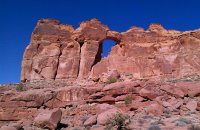 Cool spire along the road -- reminds me of the statues from Easter Island: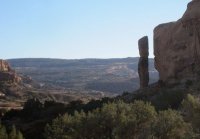 The side hike to Pritchett "really an arch" Natural Bridge was definitely worth it: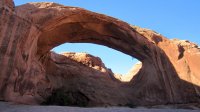 While up on top of the mesa I checked out the other two nearby arches and spotted this fire burning back toward Moab: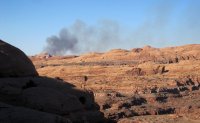 Back down on the road I headed southwest toward the rim of Kane Spring Canyon. The views were great back toward the heart of the rocks with the La Sal Mountains behind: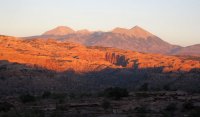 Sun up on Camp #2: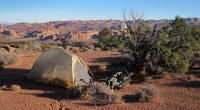 The next day I set out to the rim of the mesa. Some great views along this stretch, but definitely no way down here: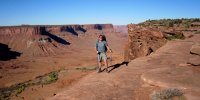 I've read about a bike portage north of this location, but was hoping to find a route farther south. On my hike up Kane Spring Canyon in 2009 I spotted a few routes that I thought could be feasible. When I got to the rim of the first spot, I was excited to see a series of ledges leading down. There was even what appeared to be a constructed support of rocks at one of the more narrow sections. Farther down the big boulders were plentiful, but there was always a way to negotiate them. Looking back up at my progress: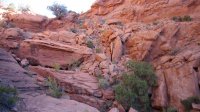 This soon led to what I considered the crux -- either climbing down between two 8-foot boulders or following a series of ledges on the southern wall. I opted for the ledges: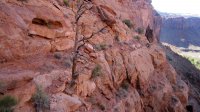 As is often the case -- it looked far worse from a distance than it did once there. Once past this section, I could eye-ball a route to the bottom. Though I didn't actually do it all, I'm now confident it could be done from the bottom up.
Goal #2 complete!
Why this excites me is that coupled with my Canyon Rims exploration from last year, I can now connect a cool route from Spanish Bottom all the way to Moab w/o following the portion of the Hayduke Trail which travels the circuitous and dry Lockhart Basin Road and paved Kane Springs Rd.
Back up on top of the mesa I swung to the south following the road toward Prostitute Butte. Just north of the butte is the only spring on the map for BTR which is on top of the mesa. The yellow cottonwood leaves were a beacon in the distance for over a mile: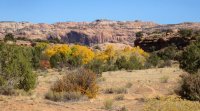 But... unfortunately when I got there I was really bummed to find the spring completely DRY! Granted it was late in the season in an extremely dry year, but I was disappointed to see that there was no water here at all. For this trip it wasn't a problem as recent storms had left the potholes full, but I was still hoping to find that reliable water source. I'd have one more chance back over at Hunters Canyon.
I headed back north across the slickrock as I followed another 4-wheeler route. It's crazy what these machines can do. Though... they won't win any speed records as I passed two different groups as I walked faster than they cold ride through this rough country! Here's a group scouting a tough section: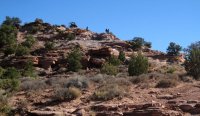 I made my way down Upper Hunter's Canyon and checked out the dryfall which blocks passage to the lower canyon:
Below I could hear the dripping of water from the spring and the area was robust with life. It definitely seems to be perennial water here, but no easy way down. There are a few spots on the south side of the canyon nearby that on the map appear as if may yield a route down, though I realize that maps can be very misleading in canyon country. Unfortunately I was running short on time at this point so I didn't have any more time to explore.
Goal #3 -- fail!
From here I double-timed it back over to Pritchett Canyon and got nearly to the bottom before calling it a night. The next day I quickly made my way out of the lower canyon: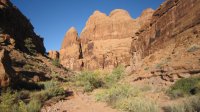 At the bottom I had to pay the $2 to cross the 200 yards of private property and campground at the mouth of the canyon. Boo.
From here I walked the paved road back toward Moab. It was cool to see several panels of petroglyphs along the way. They are somewhat damaged, but it was still cool to check them out as I didn't take the time to seek out the other known panels in the Behind the Rocks region: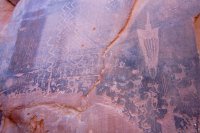 Within a half an hour or so I was back to my car at the Moab Rim trailhead.
I didn't see one other backpacker the whole time I was out there. I only saw two mountain bikers and about 5 groups of 4-wheelers (though one group had about 8 rigs!)
It's a great area and definitely one I'd like to check out with a little more time in the future.
Featured image for home page: