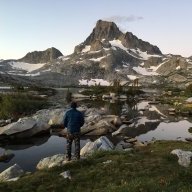 Joined

Feb 9, 2017
Messages

219
So, I've been a lot of cool places since I started backpacking 4 years ago. When I come home, I always tell my wife "I wish you could have seen that, I wish you could have been there". She's more of a front country girl. For my 50th birthday, she wants to take me on a backpacking trip. We'll probably go the first week of August. My first thought was Granite Park Chalet in Glacier, but I couldn't get reservations when they opened. So, I'm looking for a backup plan that would allow her to see mountains, wildlife, wildflowers, and glacial lakes (to her, glacial means turquoise colored, which I know depends on it being sunny and fed by a glacier). We've done the Mist Trail in Yosemite, so that is kind of the max per day I want to do. Ideally, set up a base camp. Here is my plan, I'd appreciate any holes you can shoot in it, other ideas, etc. I've been reading trip reports and this seems like a taste of the area without a ton of traffic.

Camp at one of the campgrounds along Beartooth Highway
Start at Island Lake.
Head up past Becker Lake, stay there if we feel like it, continue to Albino or Jasper otherwise. Set up base camp.
Spend 3-4 nights there and fish and take daytrips.
Possible daytrips:
Sky Pilot Lake (on a sunny day)
Silver Tarn (on a sunny day)
Climb the ridge above Jasper Lake
Make our way over to the Crystal Lake / Summerville Lake area

The idea is that we have an easy out if we need it. Some tree line, some above tree line.