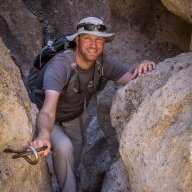 Joined

Jan 17, 2012
Messages

3,466
http://www.sltrib.com/sltrib/news/57683117-78/bear-canyonlands-resistant-district.html.csp
Backcountry campers in the Needles District of Canyonlands National Park will be required to use bear-resistant containers starting May 1.

National Park Service officials report an increase in the number of black bear sightings and indications that the animals are in the Salt Creek watershed in recent years.

Starting in May, all overnight backcountry permit holders in the Upper Salt and Salt Horse backcountry zones will need to store food, beverages, food containers, garbage and other scented items at least 100 feet from camp in a hard-sided, bear-resistant container approved by the Interagency Grizzly Bear Committee. There are no grizzly bears in Utah, only black bears.

Park officials also report numerous cases of aggressive squirrels and raccoons damaging gear while trying to get to food.

"The behavior of these animals indicates that they have become habituated to human food that has not been adequately secured," said a release from Canyonlands. "The intent of the new bear-resistant container policy is to prevent wildlife access to human food, and to ultimately help protect visitors and wildlife from harm."
Figures...I'm backpacking Salt Creek on May 1st with Dave and Jared...
Something else I need to pickup before May...