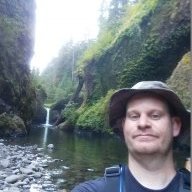 Joined

Sep 18, 2017
Messages

129
My wife and I recently took a trip to the San Francisco area to celebrate our anniversary. While much of our time was spent doing touristy type activities and hanging out on the beach (we had great weather), we did make some time for a couple of hikes.
Muir Woods
Muir Woods is a small National Monument in Marin County just north of the Golden Gate Bridge and is part of the greater Golden Gate National Recreation area. Probably the coolest feature of Muir Woods is the fact that the original land owner, a man named William Kent, protected the redwoods here from logging and then donated the land to the Federal government for the monument. His protection of this area now provides us with a rare grove (at least in the Bay area) of un-cut Coast Redwoods. At the time of his donation, Mr. Kent asked that the monument be named for John Muir.
As might be expected, this is a very popular place. If planning to visit Muir Woods, you must make a parking or shuttle reservation in advance. It is a beautiful Monument, a very short distance from a major metro area and tourist destination. Be prepared to share the park. That being said, I would very much recommend Muir Woods to anyone planning to visit San Francisco.
The shots below were all taken on a 3-mile loop hike we did combining the Redwood Creek (Main) – Fern Creek – Lost Creek – Canopy View trails. If you only have a short time to visit, the mile (or so) walk along the Main trail up the canyon from the visitor center is the highlight of the Monument.
Purisima Creek Redwoods
A couple days after our Muir Woods visit, we took a longer hike around the Purisima Creek Redwoods. Purisima is a preserve that located about an hour south of San Francisco and about half way between the small town of Half Moon Bay on the coast and San Mateo on the Bay. Purisima is what is known as a second-growth redwood forest. This means that in the early 1900s, all redwoods large enough and straight enough to produce proper lumber were harvested. The stumps of the big, old redwoods remain. In the past hundred years or so, many of the remaining redwoods have grown to impressive sizes. Any part of the experience that may be lost on the signs of logging impact are made up for with relative solitude. Unlike Muir Woods, when we visited Purisima, we only encountered a handful of other people and enjoyed many moments of quiet reflection in a grove. And it was Saturday.
The shots below are from a 7-mile loop combining Purisima Creek - Craig Britton - Harkins Ridge Trails. Again the highlight is the first couple of miles of redwood forest along the creek.
Banana Slug
It's a little hard to make out, but from the top of the hill, there is an ocean view.