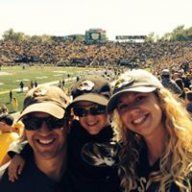 Joined

Oct 7, 2014
Messages

98
A couple has recruited me to organize and "lead" their first backpacking trip. They insist on BANFF and surrounding areas, which is fine by me, as I've never been there before. They wanted to do a 1 night trip, but I've convinced them a 3-nighter is going to give them a better overall experience.

Looking at a few itineraries, but would love some advice. These are very fit people (much more than me!) with a lot of hiking experience, but just no overnights. I'm thinking 10-12 miles (16 - 19KM) per day, maybe less or more depending on elevation changes. Below are some trips that I'm considering, but would appreciate any insight or other suggestions.

Berg Lake out and back w/ 2 -3 nights at Berg with daily side hikes
Molar/North Molar Pass
Icefield Parkways/Isabella Lake "Loop"
Rockwall Highline

Thanks.