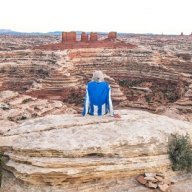 Joined

May 18, 2012
Messages

282
If all went well, getting perfect weather every day of my 2 week vacation, I figured I'd have 3 days spare to get from Hanksville to Denver via quite a detour to New Mexico's badlands.
Many people suggested they were so extensive they needed 3 days at the very least to see a fair amount,so I'd researched hard to try and figure out what appeared to be highlights and hiking routes.
It was made more complicated by the fact my AWD had low clearance and some approaches were sandy and infrequently visited so I was concerned about getting stuck and missing my international flight home. And also I wanted to get sunset photos, but some people had reported struggling to find their way back to cars in the dark.
Anyway the long drive to New Mexico left me with just enough time to reach this feature for sunset and camp there.
Without GPS co ordinates I would not have found it. But once there I intended to play around with my camera for both sunset and sunrise.
Once dark, I played around with my headlight.
Morning would be better to try a sunburst
only met 2 people while hiking out the next morning.
I knew some good hoodoos were south of here but looking out across the vast desert it was impossible to pick them out and it seemed a lot further than in reality it was. I couldn't afford to get lost or I would miss the main Bisti area.
After a few changes of mind on weather to hike south, I went for it and found this feature I was hunting.
Some other nice hoodoos were within sight so I went to explore.
but I didn't stray further to a third area about another 1-2 miles away as I was gain to get to the cracked eggs before dark.....and the GPS got me back to the tent and then the car. I finally saw two people, although they barely spoke English (Germans I think)
At Bisti there were around 6 vehicles. With a full pack I took in a lot of the rims before reaching the cracked eggs for sunset where I camped alone again after a 7 hour hiking day.
While waiting I took a liking to this feature, which I rather unimaginatively refer to as the boot.
The light kept changing
Some clouds finally arrived.
Morning wasn't quite as good
Time to go exploring. The next day was equally long - around 7 hours - as valleys led to side bowls and valleys.
I found some of the petrified wood. Not beautifully polished up like in London's Natural History Museum, but great to see it in its natural habitat and the way it had survived on its own platform.
It was all fascinating but with much of it looking similar I always had an eye out hoping to find any extra special features.
It meant that I added some extra exploration to my planned routes but it was all fun.
After hiking from 6-1pm rather than get to the car and drive round to the next big valley and hike 3 miles to the Bisti wings I decided to pick my way north through a maze of bentonite hills. It was shorter and passed some hoodoo gardens.
Heading backwards chronologically, I'd also enjoyed the badlands around Caineville. The plan was to get on the south mesa, but when we woke up after a night of rain you couldn't even see the top and the Fremont would be flowing too hard. But by the end of the day we decided to try the steeper but shorter North Mesa. The bentonite was pretty sticky and any wetter and we would not have made it.
I'd driven through these several times before, but now I wanted an aerial view to take in the scale of these eroded hills.
The Henrys came into view.
First sight of this bowl was a real wow moment. But having made it 90% of the way up, somehow we couldn't find the last bit to the top. We reached as far as a 6ft step which with a partner assist wouldn't have been too hard, but the partner would have been standing on a narrow ledge with a major vertical drop inches away. A mistake by either would have dire consequences...and we'd need to come down it. The three of us decided it wasn't worth the risk. (Since then, I've been told there is an easier way, but we didn't find it)
A great day was finished off with a view of Factory Butte at sunset.