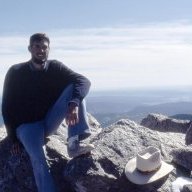 Joined

Feb 1, 2014
Messages

412
Back in 2011 I went backpacking with my kids in Badlands National Park. They were still in college at the time. It was Labor Day weekend and the plan was to do a 20 mile loop through the Sage Creek Wilderness. One daughter has a set of rules that she requires me to agree to when we go hiking together. One rule is that she gets to lead (so that she can set the pace). The other is that she has the right of refusal. Basically I think she's convinced that I'm going to want us to do something stupid (I can't imagine where she might have gotten the idea) and she wants to be able to veto it. I enjoy hiking with her so much that I always agree to the rules. The first rule was broken right out of the gate. At the trail head there is a sign indicating that rattlesnakes are resident and to beware. She decided that it would be prudent for me to take the lead this one time. She has rarely exercised the right of refusal, but this was one trip where she did and it occurred just a few miles from the trail head when we reached a cliff band. We were following a track I had down loaded from the internet and the place where the person had crossed the cliff band involved scaling a very steep, sketchy looking arroyo. I cast around up and down the cliff line and could find nothing better and so, of course, I wanted to try the climb - and she refused. Both daughters did. So, I honored the rule and we retreated to find a good camp site to spend the night. I have really good memories of that trip back in 2011. It was a relaxing and wonderful time with my kids and the last backpacking trip I've made with both of them together. From the treasured memories, the perspective of 6 years, and having made the cliff line now, I'm glad I honored the rule and we didn't try to climb the cliff.
But, I was still really disappointed not to have made the loop and ever since I've been wanting to go back and try again. The trip to do that fell together at the last minute. My boss gave me a couple days notice that he was sending me on a trip across the State the day before Thanksgiving. When I realized this would cover a lot of ground toward getting to the Badlands, I told my wife about my plan to go hiking. She said she would make excuses for me at the family event on Thanksgiving and the trip was on.
Badlands National Park is made up of two sections. The southern section is on the Pine Ridge Sioux Reservation and is jointly administered by the Tribe and the National Park Service. It's basically undeveloped and much less visited than the northern section but has some unique things about it. The main road accessing it is called Bombing Range Road. The road runs through an area that the U.S. Air Force used as a bombing range to prepare plane crews during WWII before sending them to Europe. You can clearly see on Google Earth where bombs exploded and how thoroughly they bombed the place. It's shocking that the terrain has not recovered in 75 years. Of course, hiking there involves the possibility of encountering unexploded ordinance. This section is also called "The Stronghold Unit" because this is where the Sioux would retreat when pursued by the U.S. Army during the 1800's. In spite of General Custer, the army was generally able to recognize when they were in terrain where they were susceptible to being ambushed and would almost never pursue the Sioux into the Badlands. Perhaps the army has a long memory and decided to get some measure of revenge by bombing the crap out of it during WWII. While some National Parks exist to commemorate historic battle sites, I doubt that any other National Parks were former bombing ranges. I suppose it says something about the power of government and how scenic unpopulated areas were viewed in the 20th century. Not to mention Native Americans, treaties, and reservation lands. Considering what's happening with National Monuments in Utah, maybe views haven't changed all that much.
My hike was going to be in the northern unit, but I didn't think I could make it to the northern unit before dark so I began looking at where I could stay in the southern unit. I decided on Sheep Mountain. There is a road going to the top of Sheep Mountain leaving from Bombing Range Road. The first half of the road can be negotiated by any vehicle but the second half requires a high clearance 4wd vehicle. The views were reputedly spectacular up there so I made my way there and was the only person up there that night.
There were dark skies at Sheep Mountain and a very visible milky way.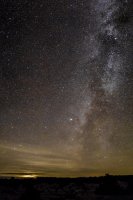 Sunrise from the same spot the next morning.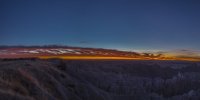 Another view of the sunrise from a different angle.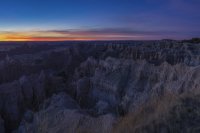 Same view a half hour later.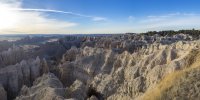 View from the road leaving Sheep Mountain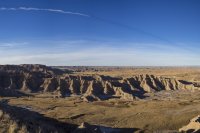 I saw more large wildlife than I've seen on any other backpacking trip. beginning with this herd of bighorn sheep along the road on my way to the trail head.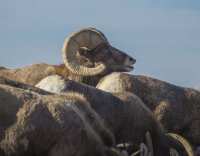 There are only a few trails in Badlands N.P. This technically isn't one of them. The loop I planned to do was from a GPS track down loaded from the Backpacker Magazine website in 2011 or earlier. I'm obviously not the only person to have done that. I ended up following this human trail which closely followed the GPS track for about 1/3 of the way, buffalo trails for about 1/3 of the way, and completely off any kind of trail for about 1/3 of the way. This picture was taken about a mile from the trail head.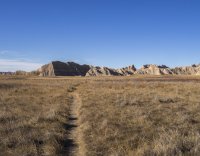 The area in the middle of the bow where the treeline can be seen is called "Deerhaven" on the USGS map. The cliff line above the treeline is where we got cliffed out in 2011. I thought that maybe my chances of getting through it would be better by coming at it from the other side so I skipped Deerhaven on the front end of the trip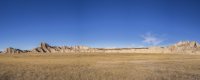 This is an up close view of the high peak on the left side of the previous picture. I needed to have put something in it for perspective. I think it's somewhere between 100 and 200 feet tall.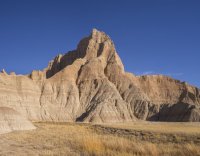 Almost no trees in this landscape.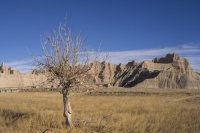 This boundary line is not on my USGS map. Looking back now, I regret that I crossed under it onto private property to take a short cut to get back inside the park.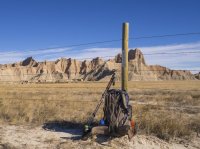 Back onto NPS property and following a fence line on my left just out of the picture. The fence line eventually came to this cliff line to cross it. I was astonished to see that the GPS track followed the fence up a very steep hill. I didn't think it was doable, but after casting around a little I decided that one hill was less steep than everything around it. I tried that and it went.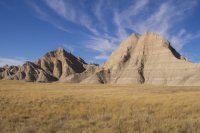 This picture was taken farther on at a ridge line between basins looking back at where I had come.
This picture was taken at the same spot looking forward. The goal is to get on the grassland on the other side of this erosion area. I don't know if I was on a human trail or a buffalo trail at this point but it delivered me to the other side. I quickly found out that buffalo trails follow the easiest route and even if they're headed for a cliff there will be a good way up or down as the case may be.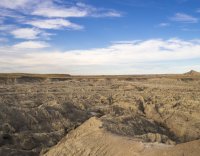 I saw this grave on the USGS map and purposely made my way here away from the GPS track I had been following. This was on top of a hill with a nice view all around, but it's in a very lonely location. The only regular visitors appear to be buffalo. The park service erected a barbed wire fence around it to protect it from the buffalo, but the buffalo were pretty much on their way to destroying the barbed wire fence.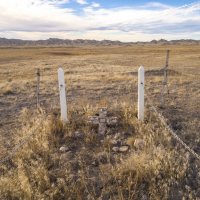 This was the first water I saw. I saw a lot of puddles the next day but all of them were very muddy. All had numerous buffalo track and many had buffalo chips in the water. The Park Service recommends carrying all the water you need because they say that water in the backcountry can't be filtered. The sediment will not settle. I carried 8 litres for 2 days. I ended with almost 2. I had originally thought that the loop might take me more than 2 days to complete. If I had spent another night, I think I would have used it all. There were buffalo track everywhere at this water hole and several buffalo trails can be seen coming to it.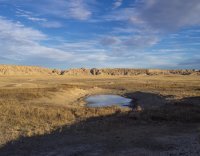 I set up camp on top of this little hill about a half mile or so from the water hole.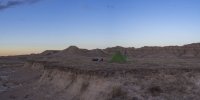 Sunset that evening.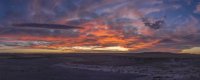 It produced a nice glow on the hills behind me.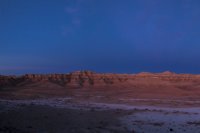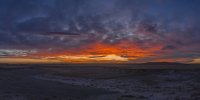 The Milky Way was again easily seen. I think the lights on the horizon were from Rapid City which was about 50 miles away.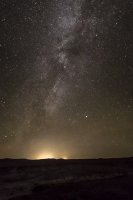 There was a nice sunrise the next morning.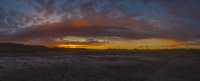 I had hoped to see some buffalo up close while I was hiking. While I was trying to make and eat breakfast in the wind I noticed a dust cloud forming in that area which was just over a hill. At the time I saw it, it reminded me of dust clouds on windy days in NM when I was a kid. But, pretty soon a buffalo came over the hill. Then there were 5. Then 10. Then 20. Then 30 and they were all walking right toward me. And they kept coming and they kept coming straight toward me. It began to freak me out and I started to think about what I could possibly do. There was absolutely nowhere to hide and nothing to climb. So, I started throwing my stuff in the pack as fast as I could when they finally broke a little to one side. They all went and stood on a little hill opposite me not very far away. This picture was taken when I first saw them coming.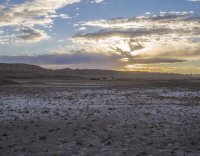 Here they're going up on the hill just a little ways away. They all stopped and stood facing me but what really un-nerved me was that one big bull made a short charge down the hill in my direction. He came about ¼ of the way to me. That seemed pretty aggressive to me and so I really started pushing stuff into the pack. After I got home I was telling this story to friend who had some ranching experience with buffalo. He asked me what their tails were doing. I told him that I was paying more attention to the end with the horns. He told me that if buffalo hold their tails out straight they're disturbed, and if they hold them up they're about to come to try to kill you. When I showed him this picture he said (with a hint of disappointment in his voice) that they didn't appear to be even mildly bothered by me.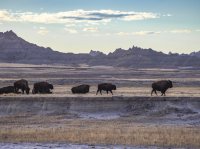 Even if they weren't even mildly bothered I was. They're way bigger than cows and it's a lot different seeing them when you're not in a car and there's no fence between them and you and they're not even a hundred feet away. After I got everything in the pack, I put it on and started around the hill I was on to the opposite side of them. As soon I as I started walking they did too and we walked parallel for a while. They went straight ahead and the terrain eventually allowed me to move away from them. I ended up dodging buffalo almost all day that day.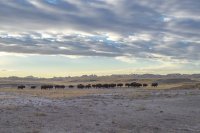 I eventually got on this buffalo trail away from the herd.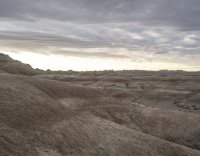 My last view of the herd I had been hiking with.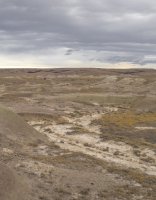 A lot of the Badlands formations are made of this combination of soil and rock.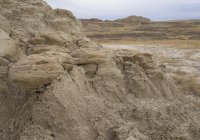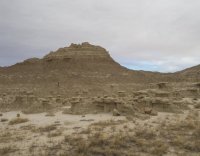 I eventually turned the corner and could see the cliff line in the distance that had stopped me 6 years before. I went to the left around this erosion area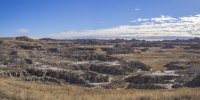 To encounter more buffalo. They're the dark dots on the grassland in the distance.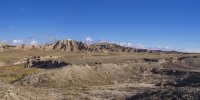 There was also a big herd of big-horned sheep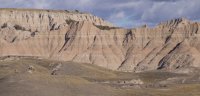 More buffalo.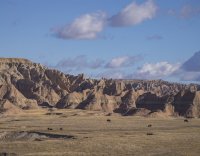 More buffalo.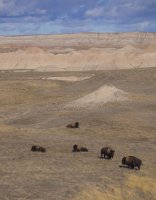 Typical terrain heading for the cliff line.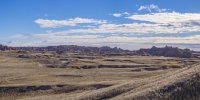 I thought that with all of the buffalo I should eventually come across the remains of one.
This is standing on top of the cliff line looking back the way I had come. I came up the creek bed in the middle of the picture.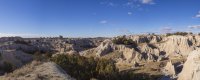 This was taken standing on top of the cliff line looking down into Deerhaven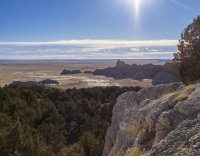 The way down was not very obvious to me. Failing to come up with anything better I ended up making an uncontrolled slide down the ravine into the cedar tree on the left. After I walked down to this point and looked back I saw this path going up to the cliff line. I didn't go back up to try it, but hopefully it's better than what I came down. I think that if there's one place on this route that you can't afford to miss, this spot is it. If there's another way through this cliff line I don't think it's nearby. Going down from here the bushwack through the trees was nasty.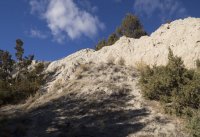 Nice view once you get out of the trees looking left.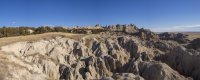 Looking right.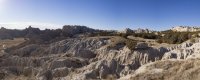 Back down on the grass.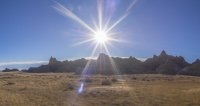 Headed back to the trail head.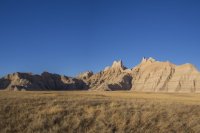 Sunset from the parking lot.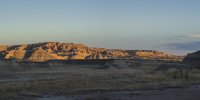 I saw quite a bit of wildlife driving out.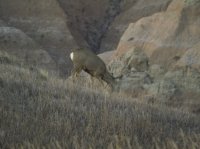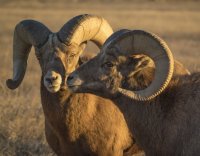 Not so scary from a car.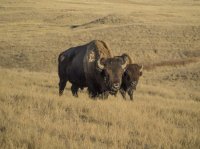 Last views of the Badlands.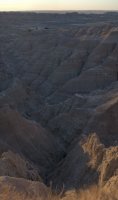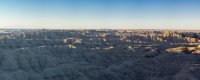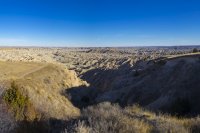 Last edited: