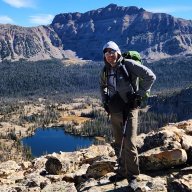 Joined

Aug 6, 2019
Messages

345
To date, aside from one at the end of February this year(which just had nighttime temps ~10F lower than expected), my off-season UT trips have been marked by weather extremes. From 50mph winds and 75mph gusts in the Uintas last fall, having to rent Microspikes and snowshoes on my first solo trip to Zion, to a 30F drop into single digits with 60mph winds bringing -35 wind chill the last time I was there(polar vortex in 2014), it's always something.
My current plan is to fly into Grand Junction on Dec 1 or 2, do an overnighter in Black Ridge Canyons Wilderness, then head to Canyonlands for a pair of overnighters and a 3 day/2 night trip down Salt Creek and back.
While I'm totally in love with the Needles after my first visit, and hoping for good conditions, my history in UT(and CA...and CO
) is such that I want some options. I'm pretty clueless about what those would be if road or trail conditions should prevent me from following through with plan A.
Here at home, I can switch destinations without much thought, knowing that "if the road to X is icy, I can just head over to Y, where the TH is right off the main road", and so on.
I don't have that kind of familiarity with this part of UT, or the abilty to relate conditions in one place to what they'll be like elsewhere in the general area, so could use some suggestions for a plan B. Whether it's going up to Moab and heading west, back to around Grand Junction, whatever. Anything where I can say "Well, I can do this, instead", rather than wandering around aimlessly, hoping for the best at some other place I also know very little about.
Thanks!