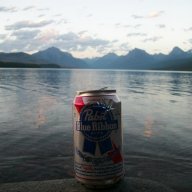 Joined

Apr 1, 2014
Messages

878
What do you do when someone complains about all of the river crossings on a trip? You bring him right back on another trip that has twice as many crossings.
This is a 4 day backpacking loop in the southern part of Yellowstone National Park. It includes Heart Lake, the Snake River, and the South Boundary Trail. It was done in July 2016 (a week ago). If you like big game country, beautiful open meadows, unburned forest, and numerous river crossings, than this is the trip for you.
Before I begin, I want to point out that the pictures in this report come from 3 different people. My camera is broken, and only takes video. I've pulled still images out of the video for the purpose of this report, and those images are of poor quality. The better quality pictures were taken by
@Keith
and Keith Rebec.
Also, it may be confusing at times, since there are 2 different Keiths in this report.
You can review the route here:
Click here to view on CalTopo
Day 1: We started this trip on Thursday, July 14th. Both Keiths and myself had been in the park's backcountry since July 1st, already crossing the Central Plateau twice (via different routes), and had just finished up an epic 7 day backpack that included crossing the Mirror Plateau, Raven Creek, Lovely Pass, Mist Creek, and the Lamar River. That trip netted us some amazing wildlife experiences. We watched grizzlies from our tents 3 straight nights, and had several surprise encounters with grizzlies, including twice being too close to sows with cubs. A windy, wet, snowy, cold front moved through, causing us to hunker down for 2 days, and ultimately led to the trip being cut short. Tension in the group mounted, and the last day felt awkward. I watched someone who I consider a great friend, and my favorite hiking buddy, build a cross along the edge of the Lamar River, and proclaim it the end of his career. With that trip ending sooner than expected, both Keiths and myself decided to get one more trip in before
@Keith
had to head back to Seattle. So we put this trip together Friday morning at the backcountry office. Heart Lake can be hard to pull a site for this time of year, so we were lucky to get a night there. (The Mirror Plateau trip report will be written by Hugh).
We drove down to the South Entrance, and got packed up at the Snake River Picnic Area just inside the park. Right off the bat, we had to cross the Snake River. Earlier in the year this crossing can be difficult, but there wasn't much to it this time. Its a very wide crossing, but not very deep. As we crossed, we could see the line of cars to enter the park backed up all the way past the Yellowstone N.P. entrance sign.
Crossing the Snake River near the South Entrance.
From the South Entrance, it was roughly 9 miles to our camp for the night, backcountry campsite 8C2. The first 6 miles are flat, with out much elevation gain or loss. After doing so much off trail the previous weeks that included endlessly navigating and stepping over downfall, the 3 of us were stoked to be hiking on a trail.
It was hot, and the bugs were worse than normal. Not mosquitoes, but flies. House flies, deer flies, horse flies. All of them biting, and undeterred by Deet. The first several miles of trail stays in the woods, which has more undergrowth and vegetation than other areas of Yellowstone. Eventually we popped out to the open meadows of the Snake River, which has some thermal features, including Snake Hot Springs. It was easy walking.
In these first 2 shots you can see the Tetons in the background.
Hiking along the Snake River, near Snake Hot Springs.
Next the trail climbed up a few hundred feet, passing through one of the few sections of burned areas we would encounter. We had beautiful views of the Snake River. Eventually we dropped down into a very large meadow, and made our way to our campsite. Site 8C2 is a 5 star backcountry campsite in my opinion. It sits right on the Snake River, and is surrounded by large meadows. Even the ridges around the camp are open, and offer great wildlife viewing. Plenty of great tents sites too. The heat of the afternoon had kicked our buts, so we waited for the sun to go down before cooking dinner. Despite the heat, it's still getting cold at night. We enjoyed a fire for a little while, then retired to our tents for night 1.
Views of the Snake River. We would camp in meadows far up to the right.
Views of the Snake River from our food prep area.
Our food pole. There are a few of these built around the park.
Night 1 at camp. Me, Keith Rebec, and
@Keith
Day 2: Our plan for the day was to hike up to the eastern shores of Heart Lake, and camp at backcountry campsite 8J6. It would be roughly 12 or 13 miles. Just like the first day, we had to cross the Snake River right away. This crossing, and basically all of the crossings for the trip, were easy and no more than knee deep. After crossing, we immediately began climbing up along the Snake River Cutoff Trail. The views looking back along the Snake were some of my favorite of the trip. We would continue to have great views as we made our way over to the Snake River Canyon trail. We passed in and out of open meadows. There were lots of wildflowers, and also lots of flies. At one point several little critters ran in front of me. I'm not 100% sure, but I think they were weasels. One sat in a tree hiding from me as I watched him for several minutes a few feet away. A smaller one ran in circles around me, seemingly unsure what to do with its mother up the tree. Eventually I left them be. Once we reached the next trail junction, we took a nice lunch break along the Snake River, where the bugs almost drove us to insanity.
Crossing the Snake River in the morning.
Indian Paintbrush
Beginning the climb up the ridge over to the Snake River Canyon Trail.
Views along the cut-off trail.
Passing through a large meadow.
What I believe to be a weasel trying to hide from me. Anyone feel free to correct me if i'm wrong.
Back at the Snake River, where we took lunch.
After lunch, we headed north towards Heart Lake. The trail goes in and out of several beautiful meadows, which offered up great views of Mount Sheridan. Everything was great until we started crossing rivers every mile or so. I had accidentally lied to the guys that morning, misstating the number of river crossings we had by a few. Last fall, I did a big Thorofare trip with Keith Rebec, and he kind of got worn out by all the river crossings. He said he was over it this year, but I could tell by the look on his face that he wasn't too happy with me. We would cross the Snake River 2 more times, and then cross the Heart River twice. In between were a few smaller stream crossings as well. All of the crossings were eating up time, as both of the guys had to change boots each time we crossed, taking breaks on both sides of the river. I couldn't help but chuckle inside. The last few miles up to Heart Lake is open and exposed to the sun. Once again, the afternoon heat got to us. And we were worn out by the time we got to the lake.
Lots of great views of Mount Sheridan.
Some sections of the trail were thick with willows. Wonder how many bears we snuck by.
Crossing the Snake River the second time.
Crossing the Snake River for the 3rd time, near backcountry campsite 8C5.
The boys lucked out on this one.
Crossing the big meadows over to the Heart River.
Crossing the Heart River the first time.
@Keith
putting his boots back on after a crossing.
Some views from the trail a few miles before reaching Heart Lake.
Crossing the Heart River a second time.
Eventually we made it to Heart Lake. We camped at backcountry campsite 8J6, another 5 star campsite. Its a very private site right on the eastern edge of the lake, and one of the best sites on the lake. You have to walk down a long spur trail to reach it. Last October Keith Rebec and I camped here, and had a bear dig out our fire pit during the night, which was only 40 steps from out tent. There isn't many good spots to pitch a tent that aren't close to the lake or food area. We were able to find some spots back behind camp a good ways. The lake was calm, and we had a great time sitting around the campfire enjoying the night.
Sitting around the fire at camp, Heart Lake in the background.
A view of our tents, a good ways behind camp.
@Keith
doing his traditional over the head toss of his food rope.
A view of Mount Sheridan across Heart Lake after sunset.
Day 3: Our destination for this day was to make it back to the South Boundary Trail, and camp at backcountry campsite 8C1 near Snake Hot Springs. We weren't exactly sure how to do it at first. Neither Keith wanted to backtrack and do the river crossings again. Our buddy
@scatman
has told us there is a somewhat easy game trail you can follow along the south shore of Heart Lake. But Scatman's opinion of easy is sometimes a lot of work. After scouting it out, it looked like we could walk the shoreline easily for a good distance. So we decided to give it a try. We crossed the Heart River outlet, and walked the shore west. Nothing to it. At times the shore became too difficult to walk, but we easily picked up game trails in the trees.. Even if there weren't game trails, the woods would have been easy to navigate. No thick underbrush or downfall. The last mile or so was through the woods. We popped out right at campsite 8H1, and the Heart Lake Trail. Once again, our buddy Scatman was right. It wasn't a difficult route.
Crossing the Heart River outlet, with Mount Sheridan in the background.
A zoomed in view of Sheridan, with the fire lookout visible at the top.
Views as we walked the southern shoreline of Heart Lake.
After taking a break at the lake, we headed south along the Heart Lake Trail. The weather was great, and extremely windy. This kept the bugs at bay, and so the day was a delight. We had roughly 9 miles to hike to reach our camp. I think this section of trail is one of the prettiest in the park. Lots of beautiful meadows, and 2 beautiful backcountry lakes. We had an awesome hike down to camp, although it was uneventful.
Views of Sheridan Lake. NPS has rerouted the trail away from the lake in recent years.
Hiking past Basin Creek Lake.
Passing through a very large meadow.
Beginning our decent down to the Snake River.
Eventually we made it to the Snake River, which we crossed again. From there it was less than a mile to camp. As we reached our campsite, we noticed horses grazing in the meadows. A horse outfitter was camped at another site near us. We watched the horses all evening from camp. Backcountry campsite 8C1 is another awesome campsite, although it has limited privacy and places to set up the tents. But the views along the river are awesome. The canyon feels a little constricted here, and creates a nice vibe. Snake Hot Springs is right next to the camp. I've heard of people getting in the river here, but I've never done it. Lots of Marmots were living in the campsite, and have completely lost fear of humans. One guy pretended to be dead, and we could have picked him up. It wasn't until 30 minutes later, while I was watching him from 5 feet away, trying to figure out what was wrong with him, that he came to. It was almost like he was drunk. I sort of wondered if campers from the night before had given him alcohol. He slowly stirred, sat up, and just looked at me, without a care in the world. We wondered where all the coyotes where. Things would change drastically if those guys found out about this place. We ended up having another great, calm night by the fire.
Taking a break overlooking the Snake River.
Crossing the Snake River before reaching camp.
Looking up the Snake River from our campsite. The fire pit is just out of site to the right in this picture.
The horses form the outfitters behind our camp.
Keith enjoying one last backcountry meal.
Our tents the final night.
Day 4: There really isn't much to this day. We woke up early, all of us wanting to hike out early. The map says its 5.7 miles back to the road, but I don't think its accurate. Every time I've hiked it, it goes by way to fast for that to be accurate. We were back to the cars by 1030 am. We did have to cross the Snake River one last time. As we were about to cross, 2 mule deer bucks crossed the river in front of us.
2 Mule deer bucks crossing the Snake River.
Back at the trailhead, it was time for us to return to the real world. For
@Keith
, who had been in the park since July 1st, it was time to head back to Seattle, where i'm sure his family was happy to have him back, alive and well. Hopefully he took a shower before getting there.
Keith Rebec and I drove down to Jackson, where we were both able to line up work with the temp service for the week. Keith has decided to join me this summer, and spend a few months backpacking. I'm super stoked to have a great friend doing trips with me. It has opened up some more challenging trips that I wasn't wanting to do by myself. And it has altered my plans drastically. Come Friday, it is time to head north, with places like Gyrfalcon Lake, Longfellow Peak, and the Sue Lake Bench clearly visible on the horizon...........
Last edited: