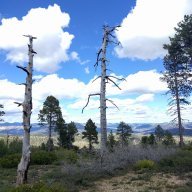 Joined

Jul 6, 2017
Messages

4
I am looking for info/recommendations for places to go backpacking with my wife and 3 year old in Northern Utah. We hope to go sometime in the next few weekends. This will be the first time backpacking with the three year old. The main things we are looking for:
1-1.5 Miles from a trailhead (may be able to push it to 2 miles)
easy to find campsite, not too busy (we will be going on a Friday to Saturday, and likely won't start hiking until after 3pm, I don't want to have to hike around a lot looking for a suitable place to camp)
water for throwing rocks/sticks into
a fire would be nice (3 year old loves toasting marshmallows)
I have been considering Ruth Lake, Star Lake or Wall Lake. What do you think of those lakes? Any other areas to consider? Thanks in advance and sorry my formatting isn't that great.