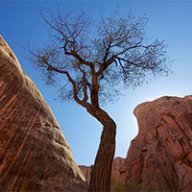 Joined

Aug 9, 2007
Messages

12,841
September 2005
This trip was a total freebie. I quit my job as the General Manager of the Golden Corral in Logan to accept a new job in Park City. When I did my boss at the GC offered me a nice package to stay for about 3.5 weeks rather than the standard two. Basically it involved a nice bonus and I got one of the weeks off paid to go on a trip. He was at meetings out of town around the third week of my notice and really needed me to hold things together until he got back. It worked out very well for me.
This trip started out far from Zion in High Creek Canyon above Cove, UT in Cache Valley. We car camped this first night with some good friends, Zach & Desaree. It was a bit rainy that night so the tarp was mandatory.
Zach and I in a late-night, drunken self-portrait
The next day we dropped off Nikita with Mechelle and Dez (different Dez). I miss those girls too! Anyway, after a day on the road we found a campsite outside of Zion well after dark. The next morning was a treat to see our surroundings.
But the camp itself was pretty sandy and less than ideal.
When we got to Zion we went to the permit desk first thing to secure a permit for the Zion Narrows the following day. If you intend to hike The Narrows you really have to get your permit as soon as you get there. The rules are pretty strict, they will only issue a 2 day/1 night permit. They will only issue it 24 hours in advance IF the weather has a very low chance of precipitation. And the number of permits is limited. You have to pick a camp spot on their map and agree to sleep only in that spot and in the entire 16 miles there are only 12 spots. Oh and the poop bags. They give you bags to poop in... seriously. After getting our permit we set out for a day hike to Angel's Landing in Zion Canyon
It is pretty amazing the things the park service has done to make this trail passable. This part of the path is cut directly out of the cliff face. This was vertical at one time.
This section of switchbacks is knows as 'Walter's Wiggle'
This picture is of the wall people climb on Angel's Landing. You can't see them very well in this picture but right in the middle of that wall there are climbers. It is a multi-day climb and they actually sleep on hanging beds on the wall. Nuts.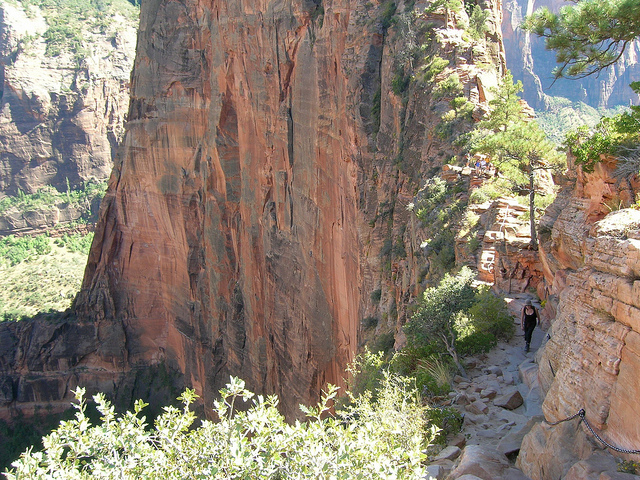 The trail is nice and safe for the first half of the hike. Then you come to a point where it changes dramatically.
This is a spot where the hand chain actually hangs something like 1500' above the ground. We sat here for a while and saw a squirrel walk up and jump that gap.
The view down Zion Canyon from the summit of Angel's Landing
Going back down this was much scarier than going up. It's amazing more people don't have accidents here.
Taylor took this picture of me on the way back down.
After the hike we headed out of Zion to car camp outside the park. It was a great spot, no crowds, no park rules and a beautiful view. I'll be back!
A couple more shots of our plush car camp location. Nice pit.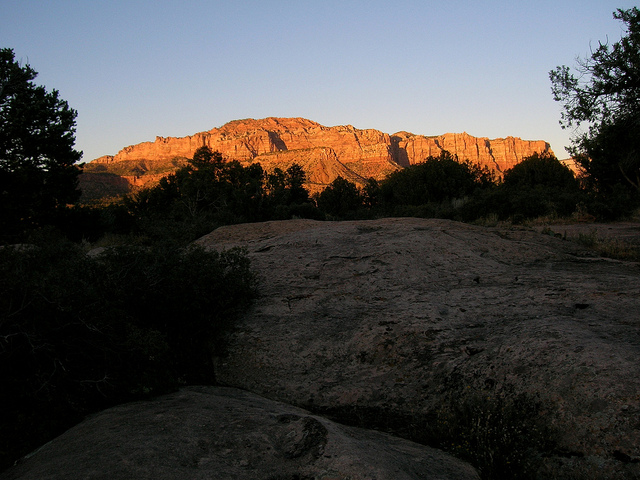 The next day we drove into Springdale to catch our shuttle to the top of the Narrows at the Chamberlain Ranch. We had arranged this the day before. It is about an hour and a half drive to the drop off point. We were the only people on the shuttle, not too shabby. Goodbye shuttle!
The Zion Narrows start as a very modest canyon with just the occasional sandstone wall. Notice the yellow bag on Taylor's pack, that is our Park Service-issued pooping bag.
After a few miles the canyon gets much bigger, and deeper. The fall colors were amazing.
The contrasting colors in the canyon were incredible.
Mile after mile of amazing narrows.
At one point we ran into this waterfall and thought we were in a bit of trouble.
This is one of several places in the narrows that are miraculously passable. This waterfall is about a 20' overhang but there just happens to be a big crack to the side that you can bypass it through. Impressive.
It's just incredible that you can walk all 16 miles of this canyon without any using technical gear.
This is a shot that I had seen in some books about the Narrows. I had to have Taylor snap a shot for me.
It was a long, hard day on the trail. We did 12 miles for the day since we picked the last of the 12 campsites available. It was an extremely hard day. It really felt more like 20 miles. For anyone considering hiking the the narrows I have three pieces of advice; first use trekking poles, second buy or rent the 5-10 Canyoneer shoes that they sell in Springdale and third, don't pick camp #12.
That is the trail running right through camp. That just shows how valuable solid ground is in this place.
The next morning we were getting ready to hike out and it started to rain. I had dreams of seeing a flash flood in my head so I started snapping the 'before' pictures to go with the 'after' shots. Unfortunately the rain never picked up and we hiked out.
The skies were still a little grey but we decided to hike out. The last 4 miles out of the narrows is the most narrow, deep part. There are almost no places to get to higher ground in the event of a flash flood. It scared us into staying at camp for a few hours before leaving. Once we did the skies were good to us. This is a shot of the walls in the lower portion of the narrows.
I imagine that much of this canyon never sees direct sunlight.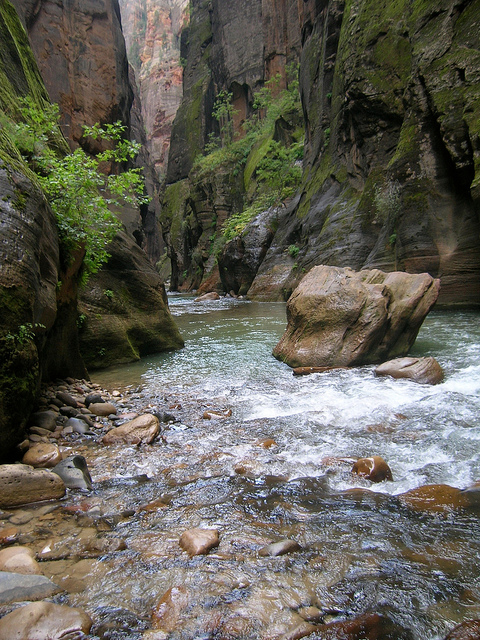 There were a lot of very deep pools to be waded. If the water had been much higher, or if we had been shorter, we would have been swimming.
It's hard to get a good picture in the narrows due to the lack of natural light.
The Narrows ended at the Temple of Sinewava. Basically you go from seeing no one to seeing hundreds of people. The tourists like to hike up the first few hundred feet. This is a shot of Sinewava from atop Angel's Landing a few days earlier.