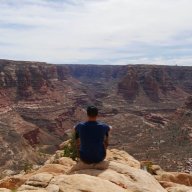 Joined

Apr 22, 2018
Messages

78
This is a 5 day Backpacking trip in the Wind River Range in Wyoming from September, 2022.
We hiked nearly 45 miles and over 10k elevation gain over the 5 days of majestic backcountry magic.
Day 1 I drove from Denver to Pinedale, Wyoming where I met up with Dom and his wife Meagan and we shuttled a car at the Newfork trailhead where we would end our hike 5 days later.
We drove to the Elkhart Park Trailhead and started our hiking ending at Seneca Lake for night #1.
Day 2 we woke up and it was Dom's Birthday. We headed a few miles to Island Lake where we set up camp and day hiked to Titcomb Basin. The views in the basin were amazing and well worth the side trip.
Day 3 we set out from Island Lake and away from the crowds for the nest couple of days. We passed the Fremont Crossing Footbridge and headed up in elevation towards Jean Lakes. We hit the trail junction with Shannon Pass and Elbow Lake and headed left. The terrain was rolling and beautiful up here. We ended up at Pass Lake for our third night.
Day 4 we headed out from Pass Lake toward Summit Lake and eventually New Fork Park for our last night camping in the Winds. This was another big day with lots of exposure and a few more lake swims. We ended up camping below tree line and having a wonderful fire to enjoy our last night.
Day 5 we woke up to a smoky morning and 8 miles to hike out. We celebrated the hike with a couple beers and some food at Wind River Range Brewing.
This trip was an amazing experience. The itinerary worked out perfect with no days longer than 11 miles. We had great weather, food, libations, and great camp comradery.