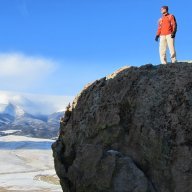 Joined

Nov 22, 2016
Messages

40
The West Elk Wilderness is one of Colorado's least visited Wilderness areas. It's just west of Gunnison and Crested Butte.
With over 175,000 acres and 200+ miles of trails it's a great destination for solitude for the experienced backcountry traveler. Earlier this month I hiked a 51 mile loop through much of the eastern half of the Wilderness .
The area is remote and has a wild feel. There is plenty of great scenery and you will see very few if any people. The trails are often tough to follow and the trails are easy to lose. In fact I lost the trail altogether at one point and had to bushwhack up a 1400 vertical foot slope. My navigation was on and I was fine. I recommend the place if you have solid backcountry experience and confident on your map skills. Beginners may be overwhelmed. Signs are often missing at junctions and they don't include trail names or numbers. They are vague and many trail junctions aren't marked.
Click the link for the thorough trip report and 150 or so photos from my trip.
http://tomcatoutdoors.blogspot.com/2018/07/backpacking-west-elk-wilderness.html
Here are a few photos to get an idea of the area.
Last edited by a moderator: