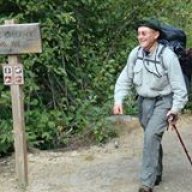 Joined

Mar 13, 2012
Messages

140
Five of us - 4 from Houston Texas and a local from Ketchum - did a 3 1/2 day trek from Redfish Lake inlet to Pettit Lake (Tin Cup TH) during the week of August 18-22. The route was as follows:
Tues: Redfish inlet to Cramer Lakes
Wed: Cramer Lakes to Lake Edna
Thurs: Lake Edna to Lake Alice via Toxaway Lake
Fri: Lake Alice out to Pettit Lake (Tin Cup TH)
Elevation info: starting at about 6700 ft. at Redfish; High point about 9250; Total climb about 5500 ft.
Source for hike planning: Alltrails.com - Redfish to Pettit
Trail markers: Trails are well marked. We had maps but really no issue with finding the route.

This is a great hike of about 28 miles with great views (this time somewhat obscured by the smoke from the western fires) and somewhat challenging for flat landers from Houston TX (coming from sea level to 9,000 ft.) and add the fact that I am 74 didn't help either. The hike crosses several passes each with talus fields with switchbacks. The talus fields were the most tiring with always having to watch your footing with the rocks. The temperatures were abnormally warm. I had been in the area a couple of times before in the same general time of year and saw temperatures with lows in the 40s (even frost a time or 2) and highs in the 70s. This time I don't think the temperature ever got below 50.
Left to right: Walter Brown, Denis Rutherford, myself, my grandson Garrett and Alex Monge
View a ways up Redfish
creek.
Just crossing Redfish creek at the junction to Alpine Lake
Me a bit weary at Upper Cramer Lake
View across the lake
Interesting formation at the top
- bet it falls soon.
There were a few wild flowers remaining
Pass between Edna and Toxaway
. Note the smoke
Just above Toxaway inlet
.
The pass between Toxaway and Twin Lakes/Lake Alice
We made it
- Oh there are two girls with us now. They are the local's daughter and her friend. They met us up at Lake Alice.
Last edited: