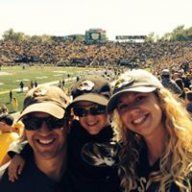 Joined

Oct 7, 2014
Messages

98
My three kids all started car camping when they were two, and now that my twins turned seven, it was time to introduce them to backpacking. In late May, I decided for an easy 10-mile loop over 2 days in Missouri's Meramec State Park, which is in the foothills of the Ozark "Mountain" wilderness (we use the term mountain quite liberally here for our 3,000 ft speed bumps). This was by no means a top 25 backpacking destination in our state, as it's mostly a walk in the dense woodlands, but it was an hour from home and close to some relatives in case we needed to bail.
The great news was that my 7-year-olds (and furry sidekick, Louise) had a blast, and they're asking for the next trip already. I was a proud Papa at the end of this trip, as we all survived with no real issues other than some ticks and my daughter's stereophonic snoring.
The black bear population has moved north in the Ozarks - this sign was new this year, and of course, started out the trek with my kids freaked out.
The trail head
A walk in the woods.
Boil-in-a-bag Mac N Cheese Was a Success. I think I brought more food for an overnight than I do for a few days for myself.
S'mores, dominated...this is the aftermath.
Happy Dad...the beginning of many future adventures with my kiddos.