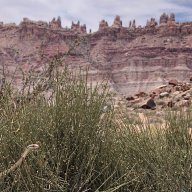 Joined

Apr 18, 2022
Messages

16
I'll be heading out to the Maze district of Canyonlands for a packrafting trip in a few weeks. I went earlier this summer and decided to focus on getting as much Maze miles as possible. I am finalizing my route, and I was hoping those more familiar with the Maze district could share their thoughts on the route.
Day 1 I will hike from Elephant Hill TH and get down to Lower Red Lake Canyon Trail to get to the River.
Day 2 I will have crossed the river, cached my raft, then head up to the Dollhouse area. I will hike the road to the South Fork of Horse Canyon, and camp a few miles into the canyon.
Day 3 I will continue up the S. Fork of Horse Canyon towards the Maze Overlook. I will head up to the overlook for the view then head down. Before heading to the SE Fork, there is a triple arch I have heard about further up Horse Canyon that I will stop at. After this I will head towards the Harvest Scene.
Day 4 I will continue down the SE Fork (with a detour to the spring at waypoint 9) and exit the canyon. I will head past Chimney Rock into Shot Canyon, and take the trail towards the Confluence Overlook.
Day 5 I will hike to the Confluence Overlook, then head towards Beehive Arch and the Dollhouse. I will hike back down to Spanish Bottom.
Day 6 I will cross the river and hike out. I have a feeling I will want to go the most direct way back.
This route is ~60 miles, averaging 10/day.
Does anyone have any feedback? I'm mainly unsure about the route after the Maze Overlook. Pete's Mesa Trail or the SE Fork of Horse Canyon?
This is what the route including Pete's Mesa would look like.