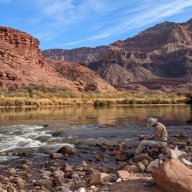 Joined

Feb 2, 2023
Messages

13
I'm planning a trip into the Maze during the week of Thanksgiving 2023. Permit, flight, rental all booked. If anyone wants to expose any holes in my itinerary I'd really appreciate it! You never know what you don't know and I've never been to the Maze.

11/17: Fly into SLC and rent a 4 door Jeep Wrangler from Enterprise. Pick up partners who are also flying in, stop at Harbor Freight to purchase an inexpensive cargo basket to go into the 2" receiver of the Jeep. Also purchase a cheap fuel can that we will fill in Green River just before heading in. Then drive to Green River for the final inventory, hot showers & hotel beds.

11/18: Drive down to Horseshoe Canyon and explore all day, possibly to include Blue John canyon. Then camp on BLM land south of Horseshoe Canyon, or the HC trailhead area if it's quiet.

**we will need to cache the cargo basket and fuel can either at the Ranger Station (I'll call and ask before) or hidden off of Roost road before we get into the Park...don't want to drag the basket on the Flint Trail etc**

11/19: Drive to Hans Flat and be there when the ranger opens up to get the permit & final water report. Drive to Maze Overlook and camp. Should drink enough alcohol where we won't miss it for a few days.

11/20: Drop in and veer towards Pete's Mesa and Shot Canyon at full water capacity and camp around upper Shot. Or on the South end of Pete's if the wind isn't bad?

11/21: Work through Shot and refill water at Water Canyon then camp around Beehive Arch. Can't camp too close to Doll House right?

11/22: Refill water at river either before or after exploring Doll House. I'll have containers and alum but I'm torn on when to refill here given the 1000' drop and climb. We will want to start working toward Land of Standing rocks to camp that night and won't get water again until the end of the Plug for our final night. I am finding it hard to lead on this particular day.

11/23: Work back through the Plug route and visit Harvest Scene. Utilize the spring beneath Maze Overlook for our last backpacking night. But there will also be more water, food, and of course alcohol up at the vehicles tempting us to hike out that evening.

11/24: Hike out early and Drive back to SLC to stage for flights home on the 25th. Pick up the stashed basket and fuel can along the way


I definitely went into this not wanting to plan out the 4 nights down in the Maze too much. But the sources of water are few and far between and I've got partners I'm responsible for.

I'm hoping for any pointed questions, unfiltered comments, or completely different ideas!