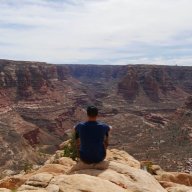 Joined

Apr 22, 2018
Messages

78
This is a 2 Day Backpacking trip in the Indian Peaks Wilderness in Colorado, August 2023.
The hike to King Lake is roughly 12 miles round trip with 2,600 ft. of elevation gain.
We hiked in on Sunday August 20th to a fantastic campsite with King lake within reach. From there we set up camp and explored the are a bit. Joe and I hiked up to Rollins Pass which provided excellent Westward views as we enjoyed the Continental Divide and excellent late Summer weather.
From there Joe went back to camp to try out his hand at fishing, while I had plans to hike nearby Sky Scraper Peak 12,382' ft. Once on Rollins Pass the hike to Sky Scraper was very flowy and a delight in the afternoon sun. From the top of Rollins Pass to Sky Scraper was a few miles, although I do not have exact stats.
I enjoyed a nice Class 2+ scramble then enjoyed a Wiseacre Oktoberfest on the summit. I had the summit and entire trail to myself which was especially special for a generally popular area.
From there I headed back to camp where Joe and I enjoyed Beer, Whiskey, and Fry Bake Pan Pizza. It was quite the feast!!
Monday morning we woke up and hit the trail headed back down. A short but much needed trip. The Indian Peaks Wilderness is an awesome place to explore and I will definitely be back to explore further.
Thanks for watching, and Safe Trails!