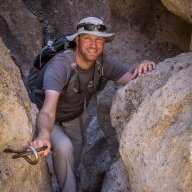 Joined

Jan 17, 2012
Messages

3,226
I liked Tyler's post, so I'm going to borrow the idea
Especially since I am sitting on a lot of new gear I am looking forward to using this year.
As some of you know, I have been gearing up to start backpacking this year. Here's some of the gear that I have purchased over the last few months to prepare. I can't wait to get out and use it once it warms up a bit. Once I get a chance to thoroughly test out this gear in the field, I'll post up some reviews, but for now here's a little info on each with the initial reasons why I got what I did.
Big Agnes Copper Spur UL1
Not only is the Copper Spur UL1 the only 1-person tent I could find that was long enough for me, it's pretty light at 2lbs 12oz. It's also a true free-standing design which I was also looking for. The cross-pole at the top of the tent keeps the sides pretty vertical making it plenty rooming inside for myself and some gear. I also like that the whole top portion of the tent is mesh, so on nice nights when I don;t need the fly I will be able to watch the sky. Not only did I get this tent for backpacking, but I think it will work great for overnight raft trips, too.
Western Mountaineering Sycamore MF
When I started looking for a sleeping bag for backpacking, I knew I needed something light but also roomy. I'm not a huge fan of mummy bags, so I ended up going with a semi-rectangular. It's between a normal rectangle bag and mummy bag. After getting into this bag, I can tell you that it's plenty roomy and comfortable inside....so I'm pretty sure I made the right decision. I got the long version of this bag which is plenty long for me and still weighs in at just 2lbs 2oz. It packs down very small, too. The hood and the foot box that unzips were features I was looking for, plus I also like the fact that I can completely unzip the bag and use it as a comforter. The MicroLite XP exterior will help provide a little weather protection, too.
Osprey Atmos 65
After looking at a bunch of packs, this is the one that fit me the best. I was really interested in the Kestrel series when I started looking at packs, but the M/L size just did not fit me well. I needed to get an actual L.
Therma-a-rest ProLite Plus
I went with the Large size even though it added a little extra weight, but it fits me well and is very comfortable. Not sure how well it will work out for me backpacking, but the worst case scenario is that I get something else and keep this one for car camping and rafting.
Big Agnes Jupiter's Cabin 4-Person Tent
Amanda and I have been using a Kelty Grand Mesa 4 for car camping when we are together and it has worked fine for us. Unfortunately, the zipper has gone bad, so I picked us up a new tent for this year. This one has roughly the same floor dimensions as the Kelty, but the roof is about a foot taller which should be nice.
AIRE Tributary Tomcat Tandem
I've rented this exact inflatable kayak before and it's the same one my good friend has....so I know I will like it from experience. It will be nice to finally have my own this season. There are a lot of day trips in the area, and I'm planning on some over-nighters, too. The tandem has plenty of room for myself and all my camping gear.
f-stop Loka
I'll add this one to the list even though I haven't received it yet....I've had it on order for about 2 months and it looks like I'm still going to have to wait until the end of March to hopefully get it....unless that date gets pushed back again. Apparently this pack is very in-demand. I'm getting this pack for day-hiking with my camera gear. It will be replacing my Clik Elite Hiker which is just too big for me for day-hikes. I like that the camera is accessed through the back of the pack, so I can just drop it down and open it up....no need to flip it back over and get the back dirty. I ordered the Medium sized ICU which should hold all of my gear just fine. I also like the fact that the ICU's can be removed so the pack can be used as a normal backpack, too.
If I remember anything else I forgot or pickup some new gear, I'll add it to this thread