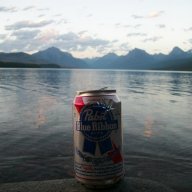 Joined

Apr 1, 2014
Messages

878
This is a 3 night, 4 day backpacking loop in Glacier National Park. From late June, 2015. We started at Packer's Roost, hiking in the first night to the Flattop Mountain Campsite. Day 2 we hiked to the Fifty Mountain Camp, and Day 3 we hiked the northern section of the Highline trail to Granite Park Camp. Day 4 we hiked back down to the car. But this is more than a trip reports. Its sort of a story.
Where to begin.
This really all starts with
@Vegan.Hiker
. Last October (2014) I did a backpacking trip in Yellowstone, and hitch hiked back to my van. When I wrote a trip report on here about it, Vegan.Hiker suggested I should have video taped the person whom I hitch hiked with. What a great idea. So the very next weekend, I did another trip that required hitch hiking. I sat at the southern entrance to Yellowstone, holding a sign for Heart Lake. After over an hour of getting passed by, I watched a huge RV pull through the entrance gate. I put my sign down, since big RV's like this never stop for hitch hikers. To my surprise though, the driver pulled over in front of me, and honked the horn. Out popped Mario. With a huge grin on his face, he offered me water, food, and a ride up to the Heart Lake trailhead. I jumped in, and we chatted the whole ride up. Neither one of us was short on words. I asked if I could interview him on camera, to which he said sure.
You can read that trip report here:
http://backcountrypost.com/threads/backpacking-yellowstones-heart-lake-down-to-the-snake-river.3794/
Mario dropped me off at the trailhead, honked the horn a few times, and drove off north into Yellowstone. I didn't expect to ever see him again. For some reason, probably due to editing my trip video and watching in numerous times, I remembered his name.
Fast forward to late June, 2015. I was standing outside the bar in West Glacier, Montana (Frita's). Just outside the west entrance to Glacier National Park. I was with my good friend Keith, who manages the camp store next to Lake McDonald Lodge. We were planning to start a 4 day backpacking trip the next day. The two of us had developed a habit of consuming too much alcohol the night before we started trips. So this time we decided to cut ourselves off at 3 beers. No more hiking on hangovers. (That's right, I'm getting old, and usually anything over 3 beers gives me a hangover.) Besides, Keith had to work the next morning at 6 am for the morning shift before we could start our trip.
So there we were, on beer 3, almost ready to call it a night, when this fella wearing dirt bike gear walks up to the bar. He glanced our way, nodded, and kept walking. I recognized him, but couldn't place him at first. After a few seconds, it came to me. "Hey, is your name Mario?" "Yea" he said, looking confused. I replied, "You won't recognize me because I have grown a beard, but you gave me a ride last fall in Yellowstone." Immediately a huge grin came on his face. "Joey with a beard!"
So much for only drinking 3 beers. Next thing I know, we where shooting top shelf scotch, chasing it with double IPA's. More times than I can remember. According to Mario (I'm not sure if he was floating my boat), after watching me walk off into the Yellowstone backcountry, he wanted to start doing backpacking trips himself. So he went to a gear shop, and completely outfitted himself with backpacking gear. He did one short overnighter in Colorado, and then headed up to Glacier to do his first multi day trip. He had just arrived to the park, and was wanting to go backpacking the next day. I invited him to join Keith and I, and he was in.
Now, fast forward about 3 hours of me having a great time, even though I don't remember much about it. Fast forward another 8 hours of sleep that ended with me waking up to a dog chewing on my arm. My van was missing. Keith was missing. My phone was dead. I was on a pull out bed in Mario's RV, which was nicer than any bed I've ever owned. I had no idea where we actually were. Other people were sleeping on other pull out beds. I recognized faces, but had no names for them. This RV was huge. An empty bottle of Crown Royal was lying next to me. I tried to sit up, but couldn't. Holy wow was I hung-over. No way was I going hiking that day. And the dog was still chewing on my arm. As my head spinned, a door opened, and out popped Mario. Only wearing boxers, he excitedly walked out into the kitchen, smiled, and said "Joey!! Dude, we're going backpacking today!!"
It was still a few hours before I could actually stand up (and several cups of coffee). Around 3pm, Mario and I finally headed for the park. We stopped at the Apgar Backcountry Office, and pulled our permit. I could write a complete separate essay on the douche bag (Brad) who gave us our permit, but I'm not wasting my time. Next, we drove to Lake McDonald, and found both my van and Keith. Keith had some how woken up at 5am, found the keys to my van, managed to get it to start (sometimes it requires a trick or two), and made it to work on time. He was already packed and ready to go. I threw my stuff together, and we headed for Packer's Roost.
It was 6pm when we finally hit the trail. It was still extremely hot, in the mid 90's. Almost the entire section of trail goes through fire burn (fires from 2003). We followed McDonald Creek for a few miles, before crossing over and climbing up 2,200 feet to reach our camp. We struggled. Thankfully, the ridge blocked the sun, and the temperatures cooled off.
McDonald Creek
Mario crossing the bridge.
Making our way up Flattop Mountain. Logan Pass is visible in the distant background.
There are several waterfalls that we passed as we climbed up the switchbacks.
A few of the waterfalls
Keith hiking up switchbacks as the moon shone above us.
As we neared camp, wildflowers littered the ground. Mario, who was so exhausted he could barely speak, muttered a few sounds, pointed at the flowers, and managed to sound out the word "beautiful".
Keith hiking through wildflowers, at dusk, a few hundred yards from our campsite
It was after 10:30 pm when we finally reached our campsite, roughly 6 miles of trail. Most people will probably not speak highly of the campsite along Flattop Mountain. I used to be one of those people. However, at dusk, surrounded by mountain peaks, its an amazing place. Especially with the full moon shining light on all the barren, dead trees. We quickly pitched our tents, and then ate dinner. Mario could barely eat, and almost threw up. But he didn't complain. It was after midnight when we finally went to bed.
Our tents the next morning.
Day 2. We woke up early. Once the sun popped up over the mountains, it was too hot to stay in the tents. Mario was feeling much better, and was in cheerful spirits.
No words necessary.
Keith at the food prep area at Flattop Mountain Camp.
We only had 6 miles (roughly) to hike for the day, to reach Fifty Mountain Camp. (All of my mileage and elevation numbers are rough estimates. I do not have maps in front of me to give exact numbers.) After a little bump of uphill, we followed the top of Flattop Mountain. Because most of the trees have burned, the views of the mountains in every direction are amazing. Clear, blue skies, along with wildflowers really made the scene spectacular.
A few shots of all the wildflowers along the trail as we started off.
These are the large meadows you pass on top of Flattop. Back in 2012, I watched a beautiful black wolf frolic in these meadows for a few minutes. This is one of only 2 places I've seen a wolf in the Glacier backcountry.
Looking west, north west towards Vulture Peak.
Mario cooking lunch. All he brought for food for the entire trip was freeze dried backpacking meals. 3 for each day.
Several views along the trail as we hiked north.
Cathedral Peak in the distance. Fifty Mountain is the green meadows above Mario's head. The campsite is out of view to the right.
It was another hot day, but the hiking was fairly easy. Soon we started dropping down switchbacks towards our camp.
Looking south, the continental divide visible in the background.
Mario and Keith taking a short rest.
We made it to our camp at Fifty Mountain in the mid afternoon. Still early in the backpacking season, there was only 1 other group camped there. We set up our tents, and then went to eat an early dinner.
Keith watching Mario set up his tent.
A few more views of our tent site.
Keith and Mario sitting at the food prep area, along with some other campers. Fifty Mountain is visible in the background.
Over the years, I have camped at the Fifty Mountain Campsite quite a few times. Almost always, I manage to see grizzly bears somewhere in the vicinity of camp. I had my binoculars with me, and started scanning the meadows. Sure enough, I found 3 bears. One sow grizzly with a cub, and another adult grizzly a few hundred yards apart. After dinner, Keith and I decided to hike out to Fifty Mountain, which is a very spectacular vista. The bears were far enough away that it was safe. Mario was a little worn out, and decided to stay back at camp. So Keith and I headed down the trail towards Fifty Mountain, which is about a mile away from the camp. As we approached the pass, the sow grizzly winded us, looked our direction, and scramble up the ridge, along with the cub. Keith managed to get this next zoomed in picture of the sow on top of the ridge before it disappeared.
Grizzly Bear near Fifty Mountain. Photo by Keith Rebec
Soon we made it to Fifty Mountain. The sun started going down behind the mountains. The area is called Fifty Mountain because supposedly you can view 50 different mountain peaks. I've never taken the time to count them all, but its probably true. The combination of that and the surrounding meadows make it one of my favorite places in the park.
The view looking north. The fifty mountain shortcut route to Stoney Indian Pass is through the low point.
Looking west out towards Vulture Peak.
Looking east towards the continental divide and Cathedral Peak.
The trail heading back towards camp. In the center of the picture in Mount Kipp.
@ben cowan
climbed this peak a few weeks ago. Hopefully he gives us a trip report when he gets done with his bike tour.
Views looking to the south, back towards our camp.
Myself and Keith at Fifty Mountain.
As we started hiking back towards camp, we noticed the sow grizzly and cub had come back out. Here are some shots I took of them:
Now here is a zoomed in photo Keith took of them:
Photo by Keith Rebec
Soon we had a good view of the other lone, adult grizzly bear. Here are 2 photos I took:
And here is Keith's zoomed in photo of the lone grizzly:
Photo by Keith Rebec
Soon we were back at camp, and called it a night.
Day 3: After 2 days (and several weeks) of sunny, hot weather, things changed. The sky was overcast, and the temperature dropped. It would sprinkle on us a few times during the afternoon. We had roughly 11.6 miles to hike to our next camp at Granite Park. This section of trail is known as the northern highline trail. It follows the west side of the Continental Divide, staying mostly above tree line. A very scenic section of trail.
One last view of our food prep area at Fifty Mountain Camp.
Mario leaving camp.
Heading towards the Sue Lake Overlook
The trail climbs steeply up switchbacks right off the bat. But the views are excellent. At the top of an un-named pass, there is a short spur trail to the Sue Lake Overlook. Sue Lake is on the other side of the divide. Its one of my favorite un-trailed alpine areas in the park.
Mario heading up the switchbacks
Sue Lake. Pyramid Peak is directly above it. Mount Merrit is in the background to the right. I would camp down by the lake a week later on July 4th, in an intense lightning storm/snow storm.
Keith by passing a snowfield along the overlook trail.
As we hiked south, the views were spectacular:
We still had a few small patches of snow to hike over:
Heaven's Peak in front of us.
Rounding the corner, heading towards Cattle Queen.
Me crossing a spring fed waterfall along the trail.
Next we had to cross the snowfield at Cattle Queen, which wasn't difficult:
A waterfall along the trail.
Heading towards Ahern Pass. Iceberg Notch and Iceberg Peak are to the right of the pass.
Mario crossing a waterfall along the trail.
Soon we reached the spur trail to Ahern Pass. Its a short side trip that goes up about 300 feet overlook Helen Lake and Elizabeth Lake. We decided to go check it out. The views at the top were amazing!
Bighorn Sheep near the pass.
Helen Lake, with Elizabeth Lake in the far distance.
Ahern Glacier and Ipasha Peak.
Keith embracing curiosity.
Me at the pass.
Heading back down to the Highline trail.
After spending some time at the pass, we dropped back down to the trail, and continued south. Next up we had to get around the Ahern Drift. Normally in June its a steep, slick, challenging snow slope. But this year there wasn't much to it. It was still steep and slick, but it was possible to drop below it, and climb back up to the trail on the other side.
Making our way along the trail towards the Ahern Drift.
The Ahern Drift
Going around the Ahern Drift.
Keith climbing up the cliffs.
I think this was the only challenging part of the trip for Mario. Which was pretty incredible when you consider he had never really backpacked before. But nothing phases this guy. He just keeps smiling.
Mario climbing back up to the trail.
The fellas taking a breather back on the trail, Ahern drift behind us.
After the Ahern Drift, it was smooth hiking. The sun had already came back out, so the views were even better. It was about 3 miles to our camp.
Continuing along the trail.
Looking back at Ahern Pass, which now had clouds rising above it. Ahern Peak is to the left, and Iceberg Peak to the right. The trail is visible below.
Another look at Heaven's Peak.
Just before dusk, we rounded the corner, and had our glimpse of Granite Park.
Heading to our campsite.
The Granite Park Chalet.
As we made our way down to the Granite Park Campsite, we passed a patrol cabin. 2 framers were staying there, they were doing work on the chalet. One of them offered to give us some hamburgers, fresh of the grill. Before I could say anything, Mario piped up, and said "No thanks, not right now. Maybe I'll get back to you, but right now I want to get to camp." I was shell shocked.
We made it to camp, and got the tents set up just before dark.
Keith at camp at Granite Park. Mario is visible in his tent in the background.
Day 4: We woke up to a beautiful day. We had about 4 miles, all down hill, to hike back to the car. Pretty easy. Clear skies made the hike wonderful.
Mario at camp the last day.
Heaven's Peak.
The three amigos. Me, Keith, and Mario.
What a great trip. A few things of note. Mario was a fantastic hiking partner. For never hiking a trip like this before, he did great. He never complained once. He always smiled, stayed positive, and did his best.
Some of you reading this may recognize my friend Keith from my Maze trip earlier this year. He had runner's knee, and struggled to walk for most of our trip. Well, he recovered pretty well. The 2 of us did close to a dozen trips this summer in Glacier, and Keith had zero problems with is knee's. In fact, it was a struggle just for me to keep up with him. An amazing turn around from earlier this year.
The end.
You can watch the trip video here: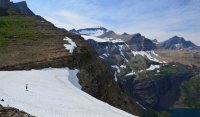 Last edited: