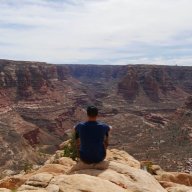 Joined

Apr 22, 2018
Messages

77
This is the preview video of a 6 Day, 5 Night backpacking trip in Glacier National Park, Montana.
This video would not be possible without the kind help of Nick Furukawa and his wife, who found my SD cards lying on the trail on day 5 of our trip.
Without them, this video would not have been possible.
We did what some call the "North Circle Route" starting on the East side of the park at the Many Glacier area.
We drove north towards Montana on Sunday August 11th, car camping the first night.
The next day we drove into the park and starting backpacking at the Iceberg/Ptarmigan Trailhead. We hiked up to the Ptarmigan Tunnel cutting through the cliff side and then dropping down to Elizabeth Lake for night 1.
Day 2 we hiked from Elizabeth Lake to Glens Lake Head campground for night #2.
Day 3 we left Glens Lake and headed up very steep and beautiful Stoney Indian Pass, and down to Stoney Indian Lake campground for night #3.
Day 4 we descended from Stoney Indian Lake down into the Waterton Valley, then climbing up to Fifty Mountain to camp for night 4.
Day 5 we left Fifty Mountain and heading towards Granite Park campground.
I lost my Micro SD cards on the trail at this point, and following the trip I put in a lost and found for the cards, they were luckily found on the trail and mailed back to me!
Night 5 at Granite Park Chalet was very rainy.
Day 6 we left Granite Park campground and headed up Swiftcurrent Pass. We then descended back into the Many Glacier Valley and back to the car.
This trip was absolutely stunning, and it was a treat to be able to get the pictures and videos, nearly a month after the trip concluded.
I had little hope that I would ever get a chance to re live the experience, and now you can as well.
I hope you enjoy this part 1 preview video of our trip to Glacier National Park. Enjoy!