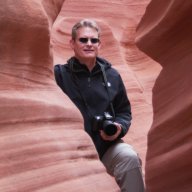 Joined

Jan 13, 2013
Messages

136
Almost all of the camping I have done until now have been out of my Jeep and allowed me to use heavier, cheaper and perhaps more comfortable equipment. The more I explore the Colorado plateau I have recognized that long day hikes from my Jeep is not enough to satisfy me and I want to get into doing some 1-3 night backpacking trips. This brings me to the question of equipment. I already own a Big Agnes Copper Spur UL2 tent which I love and will also be my backpacking tent. Most of the time I will also be carrying DSLR and Tripod. Here is my proposed gear list of the heaviest base items (~12lb. 2oz base weight):
Osprey Atmos 50 AG pack (4lbs)

Big Agnes Copper Spur UL2 + footprint (3lbs. 7oz.)

Therm-a-Rest NeoAir XTerm MAX Sleeping pad Large (77x25x2.5", 1lb. 7oz.)

Jetboil Flashlite Cooking System (11oz.) + 100g fuel canister (~7oz.)

Western Mountaineering down sleeping bag (trying to decide between these two):
Most of my trips will be either in the Spring or Fall with possibly low temps down in the low 30s, but also want to be able to do some trips in the Colorado mountains in the Fall where night temps can go down further. I am 6" tall and 180lbs. So here are some questions:
I want to buy quality gear that will last and is fairly light. I don't necessarily need to go Ultra Light and I really enjoy comfort when hiking/camping/sleeping. So are the above items a good choice? Is a base weight of ~ 12lbs+ acceptable?

I am a side/stomach sleeper and most of the time will stretch my one leg straight and the other leg/knee drawn up towards my torso. This makes mummy bags very uncomfortably for me, so I am looking for a bag with a fairly large Hip circumference. I have heard nothing but great things about WM bags and have narrowed it down to 2 contenders (TerraLite & Sycamore). I am leaning heavily towards the TerraLite because of the barrel shape which will be perfect for me, but I am concerned about the durability of the ExtremeLite series shell fabrics. I am pretty careful with my gear, but have not been able to see any of the WM bags in person. Does anyone here have experience with the WM ExtremeLite series bags and able to comment on the durability of the bag fabric? (I seem to remember that @steve have a WM AlpineLite?).
Any comments/opinions will be greatly appreciated.
Last edited: