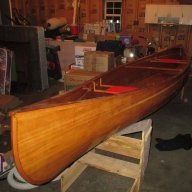 Joined

Jan 20, 2012
Messages

719
Originally posted on my website at
www.livevicariouslythroughus.blogspot.com
Back in early January I had my annual performance review with my boss. Part of the performance review includes setting both personal and business goals for the upcoming year. One of my personal goals was to catch a golden trout. I've dreamed about it for years, but after 5 trips had ended in failure, it was time to get serious. So over the winter and early spring, I dreamed and researched. Books, topo maps, the internet, and a few other sources all fueled the fire. The best book I found for where to go is John Baughman's Most Complete Guide to Wyoming Fishing. The best book I found for how to catch them is Flyfishing the Rocky Mountain Backcountry by Rich Osthoff. With those two books and several topo maps, I finally narrowed my choices to two areas.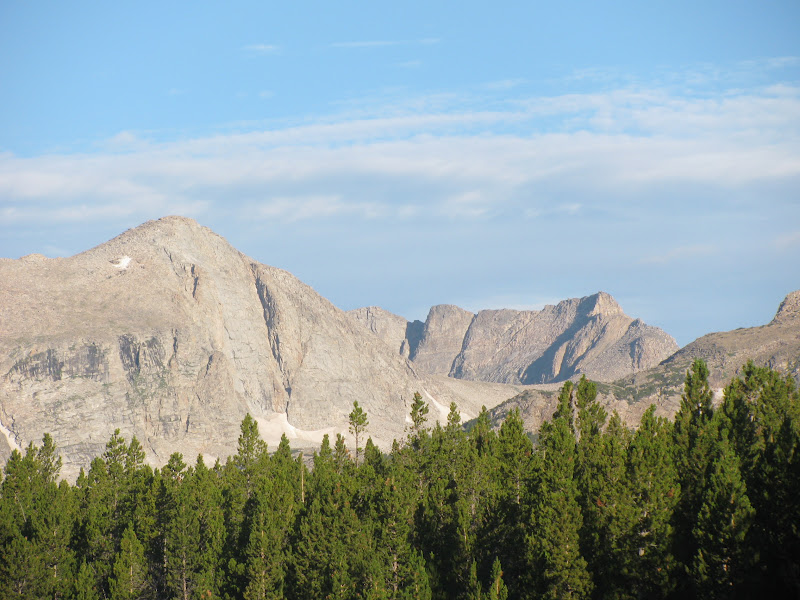 On a whim, I looked up
Rich's Flyshop
and called the number. Rich answered and we had a great conversation. He dropped a tip about a lake that had 5 pound brook trout in it nearby one of the areas. You don't see 5 lb brookies every day, so that settled it. Destination set.
I originally planned to be gone a week in late August, but my wife gave me an easy out. She said I could go for half a week and not bring her or the kids. I'd love to bring her, but hauling 2 kids under the age of 3 in addition to all our gear just didn't sound feasible. If she came, the kids were coming. When she offered the concession, I jumped on it and called a buddy and after consulting the weather forecast, set the date for July 23-25.
We drove up Sunday night, with plans to camp at the trailhead and bust in there the next morning. Signs telling us "No Camping" changed our plans, so we shouldered our packs and hiked in a mile or so to find a campsite. The next morning we woke up and continued our hike. The trail was pretty good except for a portion along a gnarly 4-wheel drive road.
​
We got to a big lake, took a break, then continued on. I thought the rotting wood portion of the old dam looked pretty cool. Through this portion of the hike, we saw several small herds of elk, which spooked as soon as they saw us.​
​
We hiked on and reached the lower end of our destination lake. Beautiful! I couldn't help but think about how the water from this lake flowed to the Atlantic ocean and Gulf of Mexico since we were on the east side of the Continental Divide. We hiked to the inlet, scouted around a little bit, and found a nice little campsite. We hurridly set up camp, strung up our fishing poles, then hit the water to catch some fish.
​
The first 20 or so fish I caught were brook trout, but then I landed one that wasn't as dark. Golden Trout. Success! My first ever! It wasn't very big or very bright, but it was a golden! It was the first of several dozen that I would end up catching in the 3 days we were there.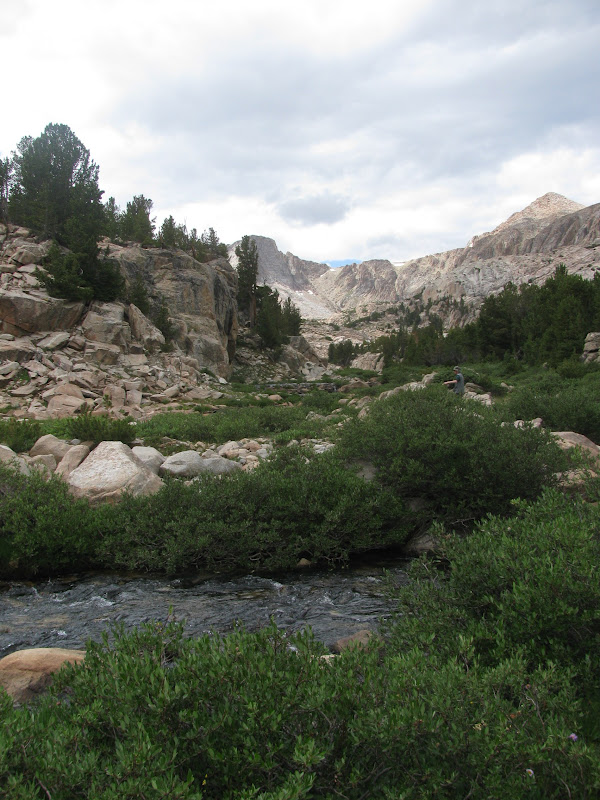 ​
We spent the rest of the day fishing the stream above the lower lake. The higher we got, the brookie numbers declined until all we were catching were golden trout.
​
What a beautiful area! Not as beautiful as some areas in the Northern Winds, but beautiful nonetheless. Most of the fish preferred royal wulffs on the surface, or a copper john nymph as a dropper. By the second day, we were looking for other flies to temp the fish with, but we couldn't find others that did the job as well.
​
We got to the upper lake and caught a few larger fish. Goldens as well, but not completely pure. The guys at the Wyoming Fish & Game said these ones were 98% pure, with the remaining 2% being rainbow. They weren't as colorful as the stream fish, but they were hard fighters, diving to the depths, the rocketing to the surface for some fantastic jumps. We fished until nearly dark, then high-tailed it back to camp for dinner and our sleeping bags.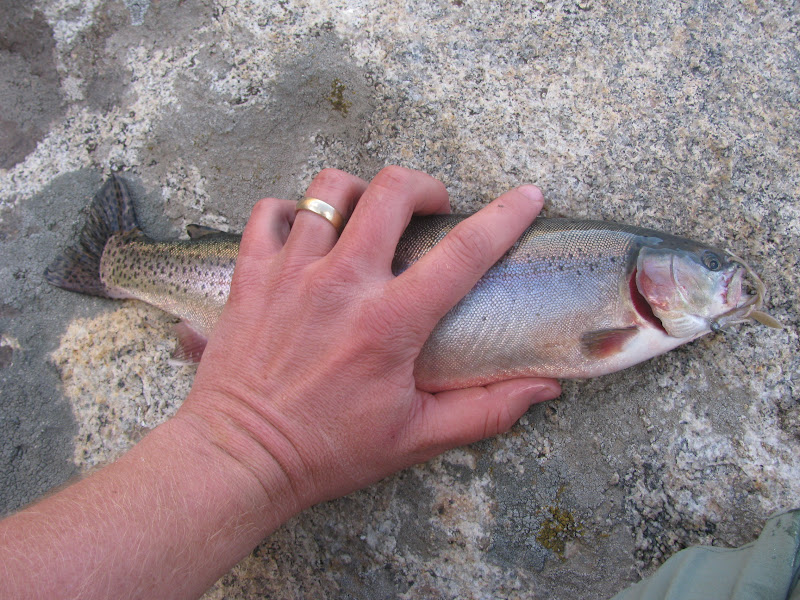 ​
Tuesday morning, we woke up and after an oatmeal breakfast, we hiked out to look for the big brookies. We got up to the lake and were nearly blown away by the strong wind. A half-hour of attempted fishing in the face of strong winds resulted in nothing and there was more winds and storm clouds rolling in. We turned around and hiked back toward camp.
​
Once out of the wind we hiked around, soaking in the beauty, and continued fishing. A rainstorm rolled in and it rained pretty heavily for half an hour or so, but blue skies came again.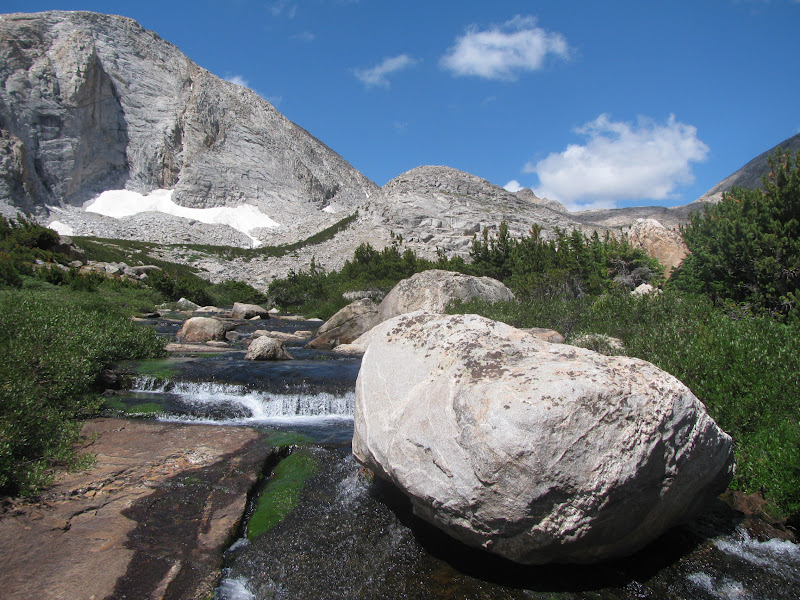 ​
I really liked this picture. The Wind Rivers are beautiful!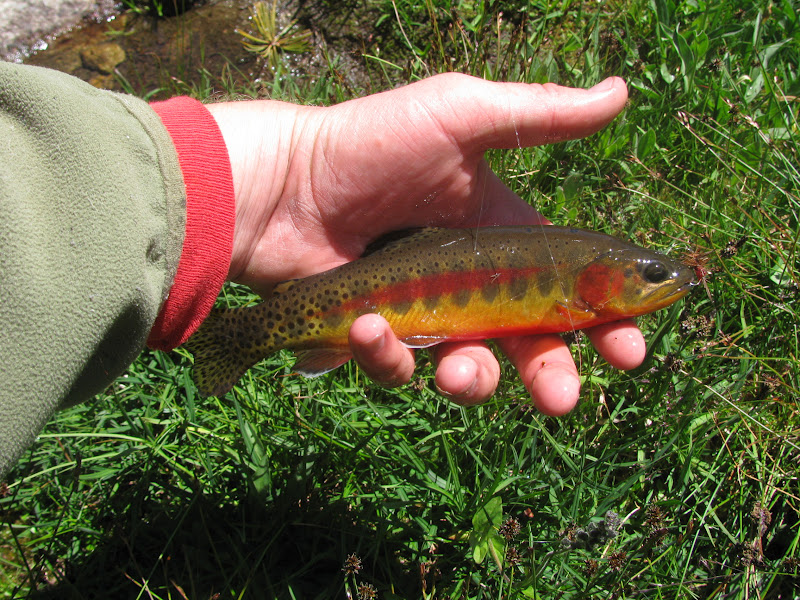 ​
I had to post a few more pictures of the golden trout from the streams. So colorful! Some of them still had their parr marks, like the one above. Others, like the one below, didn't have them anymore. Their reputation as the prettiest trout seems well reasoned to me.
​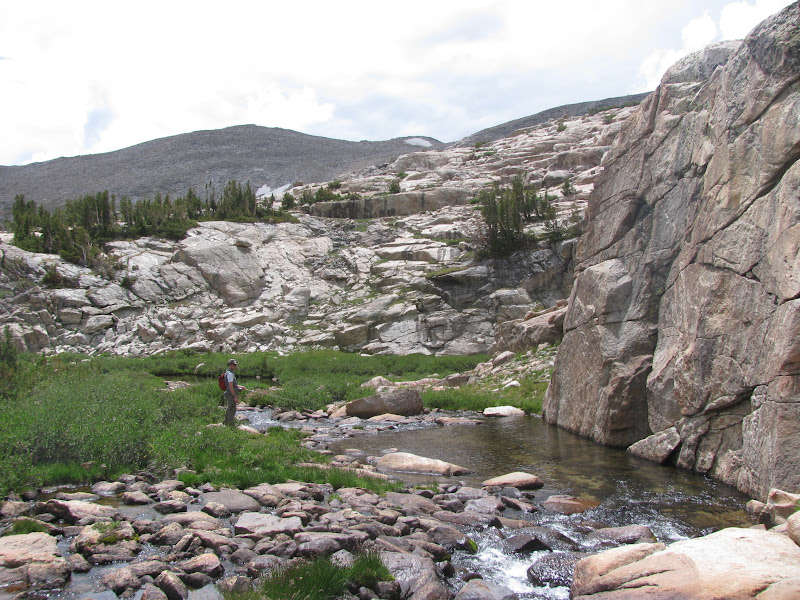 ​
Wednesday morning I woke up, had a quick breakfast, then spend a few hours catching golden trout. Three days of golden trout. I think that I'm the one hooked!
​
We broke camp, loaded our packs, then headed down the trail. We stopped along the way and fished a few lakes and streams. My friend caught 30 fish in half an hour at one spot. It was pretty amazing. I was trying to catch 2 at once, but couldn't land both.
​
Farewell Winds! I shall return!
Featured image for home page: