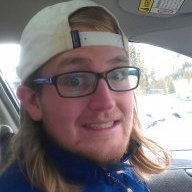 {insert witty remark here}
Joined

Jan 22, 2012
Messages

151
I'm *trying* to organize/clean my outdoor gear and I just happened to notice...I've got a lot of backpacks. I thought to myself...I bet others on BCPers will have even more than me. And thus an ideas was born.
Lets see who has the most packs.
I'll start
In the picture I've got 11. I'm also missing 3 more (possibly more but 3 is all I can think of off the top of my head) that are not too frequently used.
1. imlay large silo
2. dakine sequence
3. osprey kestrel 38
4. Bd stubby haul
5. osprey quantum
6. arcteryx axios 50
7. clik elite probody sport
8. no name backpack for climbing gear
9. camelbak, not sure exact name
10. nalgene sprint
11. outdoor brand pack
not pictured
12. camelbak mule
13. another nalgene sprint (much older though)
14. kelty external frame pack
Total: 14 packs.
your turn, go!