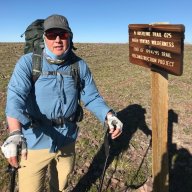 The mountains are calling and I must go
.
Joined

Mar 31, 2013
Messages

1,016
When it comes to backcountry food I've chosen ease over, nutrition, flavor & creativity.
The standard menu is 3 flavored oatmeals & 1 hot chocolate for breakfast, 2 cliff bars for lunch & a Moutainhouse dinner. + .3lbs / day of Twizzlers for a sweets. Oh yeah, and I also pack enough gatorade powder to have a gallon every other day. Throw in a what ever fish is caught.I just finished this book
The Great American Camping Cookbook
and thought I should try adding to my menu.What do you do for backcountry food? When you're packing all your food for a week you have to made trade offs. What trade offs have you found to be worth it / not worth it?
I await your wisdom . . .