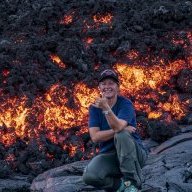 Joined

Jan 19, 2012
Messages

4,070
With a busy school and work schedule, I committed pretty late to come and attend the first BCP campout and exploration.
I left work in Zion later than expected, but with Spring Break and a lot of visitors in the park, I had a lot to do at the visitor center desk.
A few hours later I finally arrived and joined the group around the campfire for some talk story.
For some reason, I did not take any pictures the first evening, I guess I was just tired. Bedtime for me was around midnight.
The next morning was a beautiful and sunny day and I enjoyed breakfast with a nice view of the surrounding area.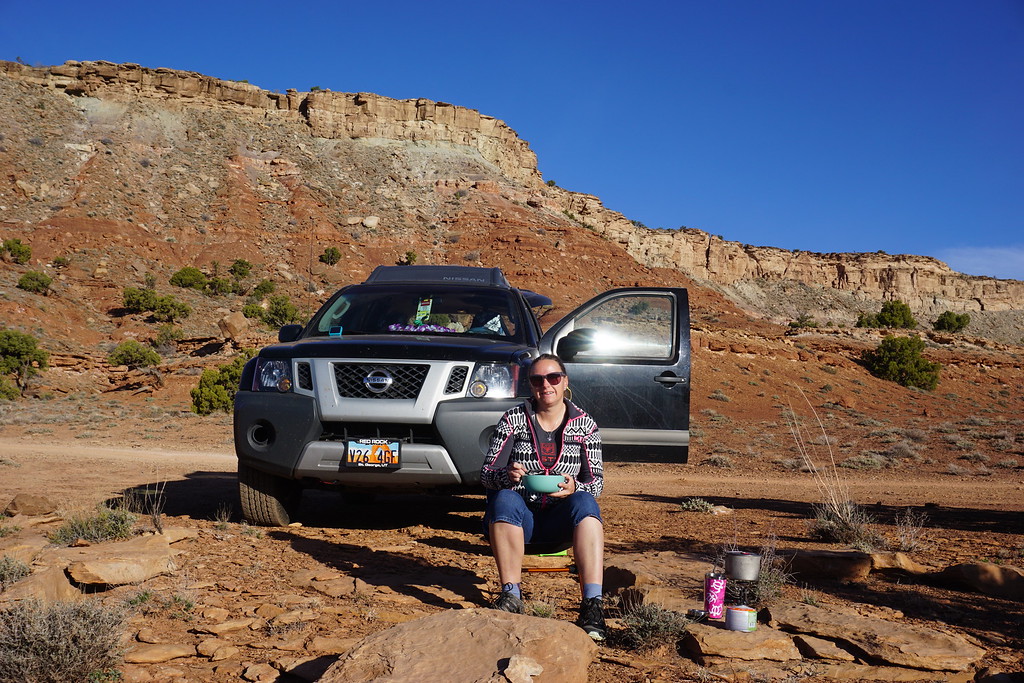 Today we would split up in several groups and explore some of the surrounding areas. I decided to join the group with
@Udink
and
@Chris Mosbacker
to explore a rock art panel, that you could reach driving on a gnarly road. I'm actually glad I did not have to drive it as I would never make it to where we parked the cars.
The scenery was pretty amazing and for me, it was the first time to explore anything near Temple Mountain.
typical desert scene with dead juniper
We followed a dirt road for a while, enjoyed the views and progressed. At one point we left the road and climbed up to a higher plateau.
the group walking the dirt road
looking back and down to the road
We negotiated around a rock fall area and continued our hike.
At one point we discovered the samples laid out in the field of an old drill core. It was pretty cool to see this.
Milkvetch in bloom
Another amazing find was an old mining claim and Dennis opened the tin box with the papers. The papers were in pretty good shape and we all took some pictures.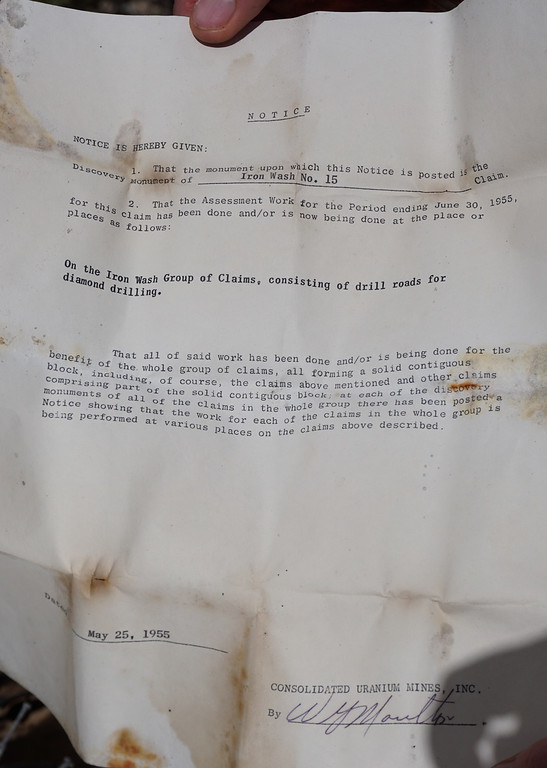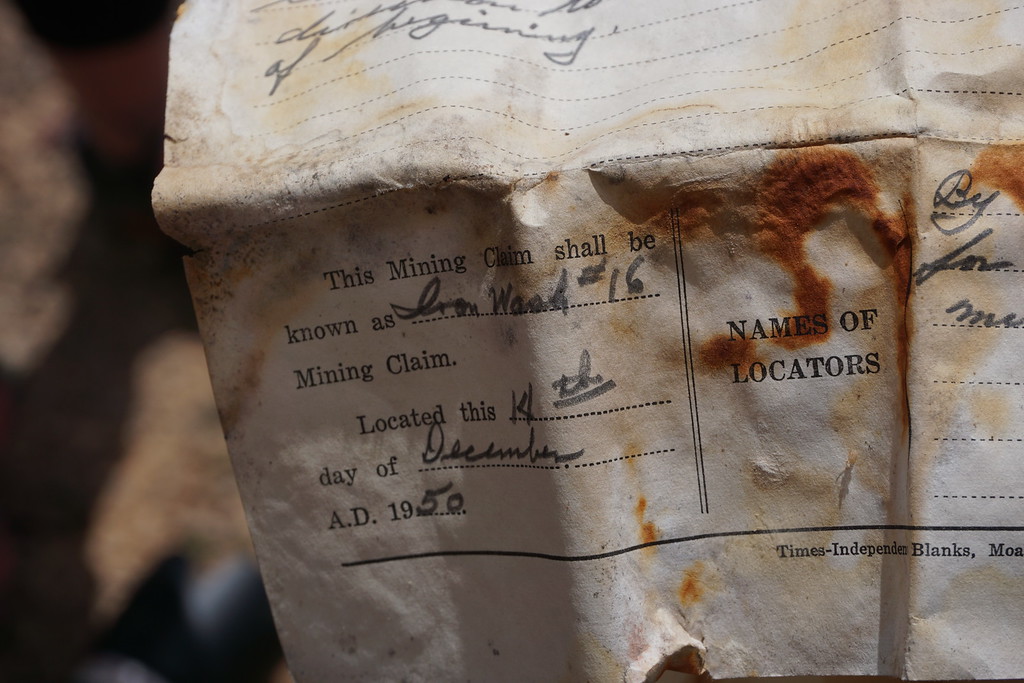 Not long after that find, we left the wash and walked across an open area with very healthy cryptobiotic soil to the location of the so-called unexpected panel. It was really an amazing panel and in amazing shape. We had our lunch break nearby and all enjoyed the panel and its details.
The hike back provided again some excellent views of the amazing geology. I guess I need another trip out here so I can just explore the area and see what is out here.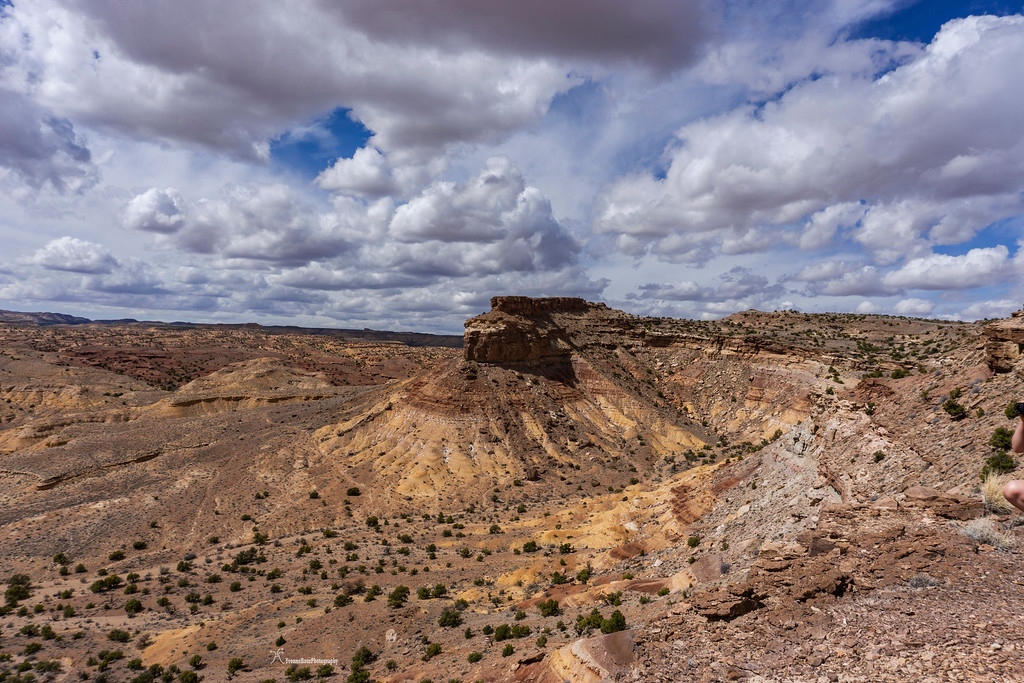 Morrison Formation peaking out at the bottom
Tilted Strata
On the way back we stopped at another panel before heading back to camp.
@blueeyes
taking pictures of the panel
It was a fun hike and we get a few miles in today. Back at camp it was dinner time for me and I grilled my brats on my bbq.
When I headed back to the group, a fire was already burning and we sat together for another evening of talk story. We also got a good sunset and the clouds lit up nicely behind Temple Mountain.
Temple Mountain View from camp
Virga coming down
It's clearing out
Talk story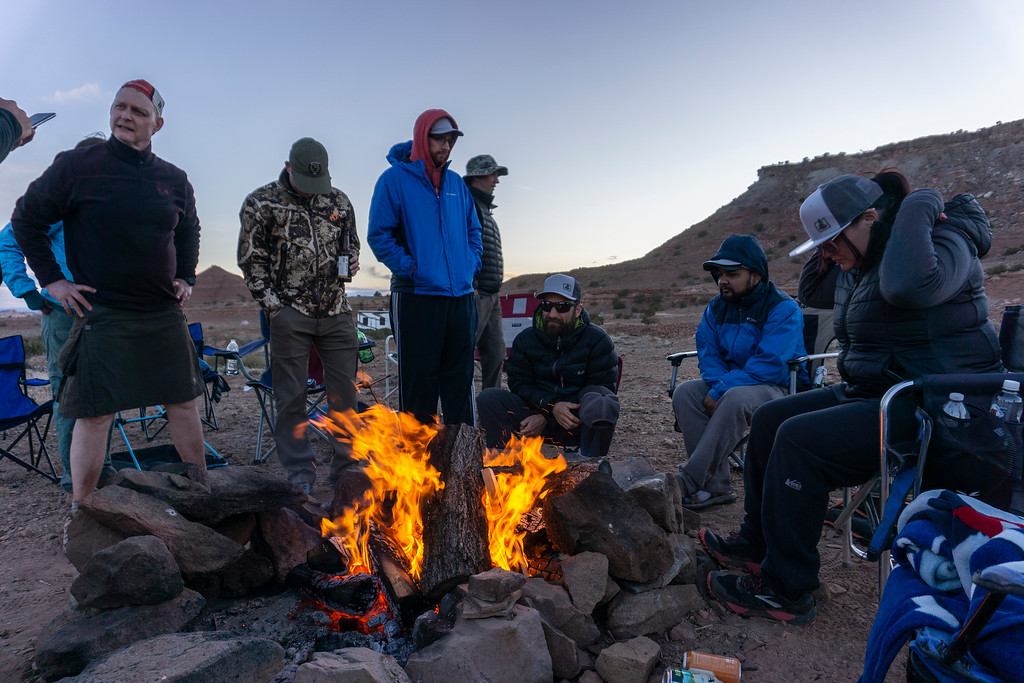 More talk story followed later plus some games. It was pretty windy and chilly for the rest of the evening and at one point I was just happy to warm up and go to sleep.
The next morning we all broke camp and started to head home.
I decided to do some of the popular touristy stuff on my way home and headed to Little Wild Horse Canyon first. Usually a super popular and overcrowded spot, but it was Sunday morning and therefore not too busy.
At the parking lot I ran into
@Miya
and
@Bobbiesworld626
and we started to explore Little Wild Horse Canyon together.
In the beginning, the trail goes through a dry wash and I enjoyed the views of the deformed rocks and some pieces of lithified ripple marks that were deposited everywhere.
deformed strata
Ripple Marks
As soon as we turned into Little Wild Horse Canyon past the junction with Bell Canyon, it began to get really interesting.
Wonderful sandstone cliffs, tafoni.
Selfie in a wider section
Tafoni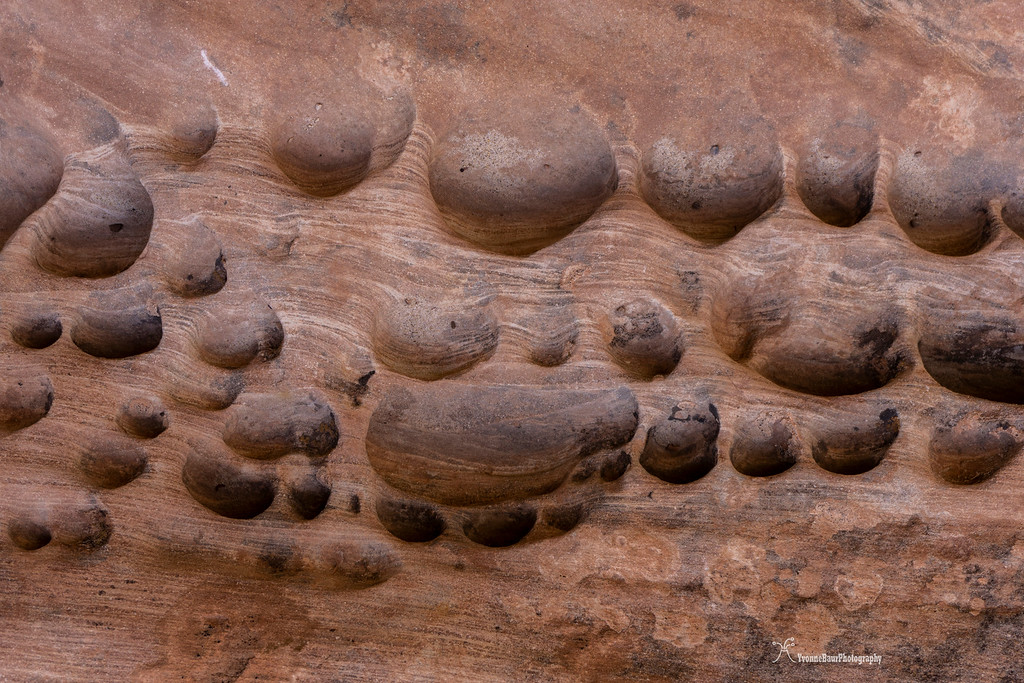 The light was pretty nice this morning as we hit the canyon during the perfect time of day.
The first narrow sections followed and we all had fun taking some selfies.
And it kept getting better and better. I loved all the light we had bouncing off the cliffs.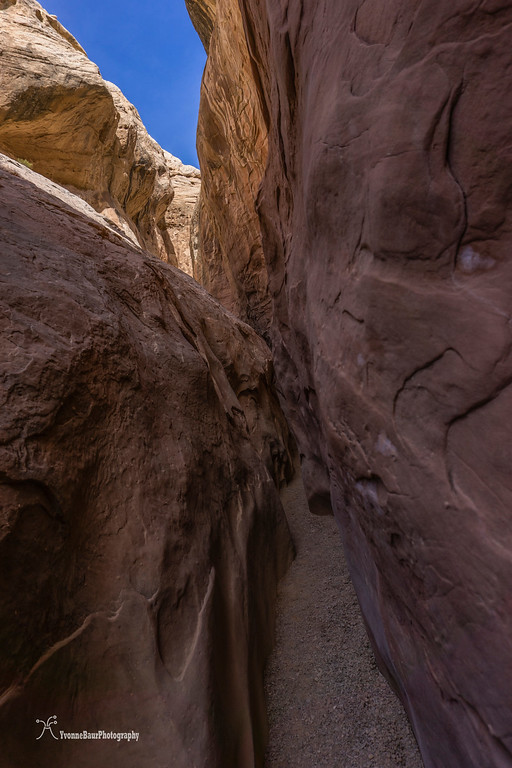 After a lunch break in a wider and open section, I decided to turn around as I still had a few items on my bucket list I wanted to explore today before heading home.
Even on the way back, there were fun things to explore.
The drive back towards Temple Mountain Road was fun, too. The colorful San Rafael Reef was a real eye-catcher.
I drove temple Mountain Road all the way to its end, took the underpass to the northern San Rafael to Buckhorn Draw Road and headed towards to Petroglyph Panels about 20 miles away. The entire drive was wonderful and I passed many geologic sections of Chinle, Kayenta, and Navajo Sandstone.
I stopped at the panel and enjoyed the details of it.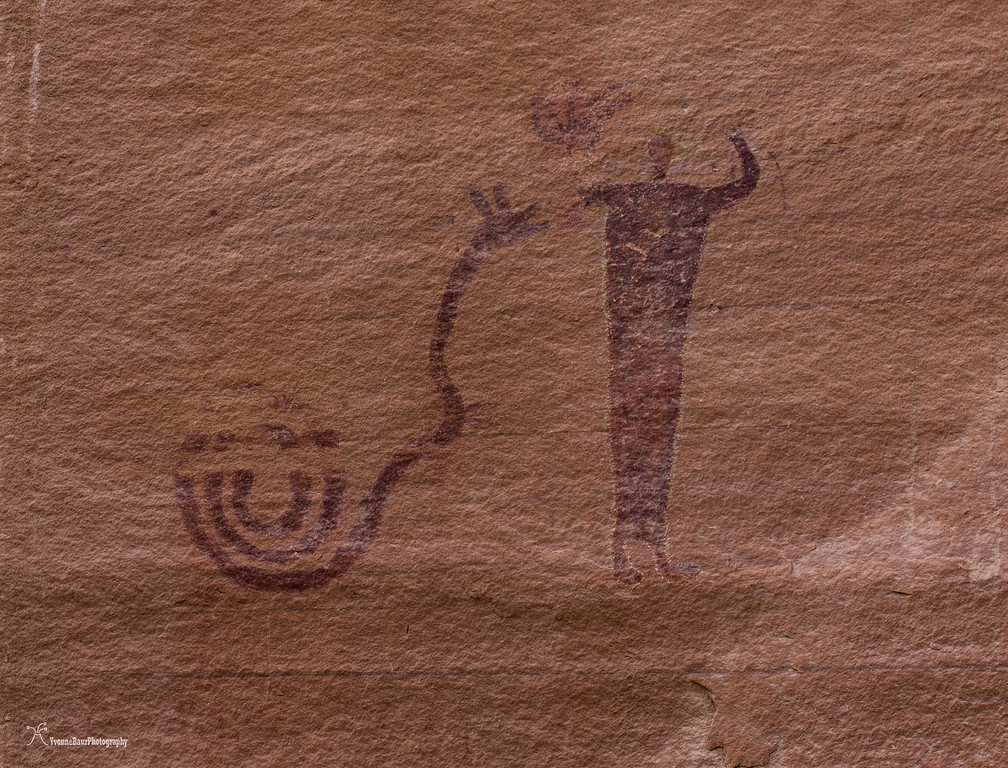 Next stop was a cool inscription high on a cliff wall.
I stopped at another rock art panel along the way and walked the short path up to it.
My last stop was at Wedge Overlook. I had camped here a few times before and I still love the expansive view from here.
It just blows me away each time I stop here.
This was my last stop before I headed back to the interstate and 4.5 hours later I was back home.