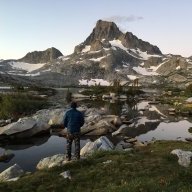 Joined

Feb 9, 2017
Messages

217
Hi all,
I've benefited greatly from this site and others in planning trips. A little knowledge about going off trail a quarter mile from the campsite to a waterfall, or amount of shade in the summer can go a long way in improving a trip. I'm trying to create a site where people can go to get this kind of information from people that have been there. It is up and running now, I put a link in the resources section.
The amount of help it gives people is directly proportional to the amount of data in there for the sites. Several people have been generous with their time and provided reviews (
@Outdoor_Fool
and
@wsp_scott
in particular). A lot of you have been a lot of these places. If you have the time, it would be really cool if you contributed some knowledge. I've made it easier to write reviews.
1. Go into the campsite itself and write a review OR
2. Click the Quick Review link to write a review without having to navigate to the site on the map or in the list OR
3. Just type it into this google spreadsheet
https://docs.google.com/spreadsheets/d/1AnierxrSZua8KeV34NtL8tSJ6dH2uTvbqQM-MNbmnWU/edit?usp=sharing
OR
4. Send me the information (site name, star rating, review) in any form you want, and I'll bulk upload it to the database
If nothing else, it is kind of fun to play around with. It lives here:
http://bcsites.herokuapp.com
By the way, it is only in areas with designated campsite management strategies. See this thread for a good explanation:
https://backcountrypost.com/threads/backcountry-campsite-selection-opinions-please.8205/
Anyway, if you do get a chance to check it out, I'm happy to receive any kind of feedback for making it better. In the next couple weeks, I'll probably add some campsite to campsite distance and elevation change info. Glacier and GSMNP have the most reviews right now, if you want to see what they look like.
Thanks,
Sean
Last edited: