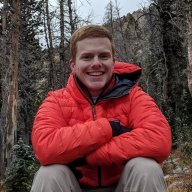 Joined

May 31, 2015
Messages

3,064
September 30 - October 4, 2022
Continuing our tradition of the last two years, we went to the Bechler area of Yellowstone again this past fall. This year was wetter and cooler than the previous year.
Day 1
I was able to do the full shuttle route this time, as opposed to last year, so I met up with Andrew and Steve at the Bechler Ranger Station, we left cars there, then Andrew drove us back. Got lunch in West Yellowstone, then headed on to the Lone Star trailhead, where the fourth member of our group, Zach, was going to meet us. Got everything together and headed up the old road/path toward Lone Star Geyser.
It started raining only a few minutes after we started. Out came the rain gear.
Approaching Lone Star Geyser.
We had just missed an eruption by only a few minutes. I volunteered to take the blame because it was my idea to put on rain jackets shortly after we started.
Rolling out from the geyser.
Firehole River
We got to camp, got tents set up, and gathered up some firewood. It was a nice time around the fire that night, and it got fairly cold. I think our camp site was OA3.
View from behind the camp site.
It rained that night for a while.
Day 2
Andrew's tent in the morning.
This grouse(?) joined me for my morning cathole dig.
Low clouds over the meadow with bison in the distance.
We had considered going to Shoshone Geyser Basin as a side-trip, but when we got to the junction, the vote was 3-1 to skip it and have time to go to Mr. Bubbles after getting to camp. Sorry, Steve. He later said he thought it was the right decision.
We put in a lot of the day's distance in the forest. The rain held off pretty much all day, but it was overcast the whole day. We made it over Grants Pass (still not exactly sure when/where we did since there's no sign that we noticed). This section of forest was sparser as we got into an area with more volcanic rock. There was a decent bit of uphill through the forested stretch.
Entering the Douglas Knob Meadow. The camp site near here looked awesome.
Douglas Knob. There was a nasty marsh we had to get through in the center right of this photo. Everyone was glad they had their waterproof boots and not trail runners for this trip.
We dropped back down into the forest for the final miles to camp.
Past-peak foliage next to a tributary of Little's Fork.
We were at 9D2 for the night. I didn't take any pictures in camp, I now realize. Probably mostly because of the rain that we got later.
Gregg Fork right next to 9D2.
After we set up the tents, the sun kind of came out, and we headed to the thermal area on Ferris Fork.
Hot water crossing.
Back again.
We went back to camp to have dinner. It started raining shortly after we were back, and right as we were starting our fire. We tried to keep it going for a bit, but the rain was too steady to make it worthwhile. We spent the evening under Andrew's tarp (which was a fantastic idea to bring) playing hearts and sipping bourbon. I had my best hearts game ever and shot the moon. I need to get one of those tarps for nights like that one.
It rained on and off that night. Mostly on.
Day 3
In the morning, we followed an old trail we found when we were gathering wood. It was criss-crossed with deadfall in places now, but there were sawed logs as well, so it was maintained at some point. Anyway, it led us to a pretty cascade on Gregg Fork above our camp site.
The cascade
We headed out after that, back to Mr. Bubbles for another few hours.
Twister Falls, along the way.
Here we are again.
We got lucky this trip and didn't have to share the Mr. Bubbles with anyone. People showed up both times as we were leaving, but that was it. Different from the hot tub party it was last year.
I didn't hike up to see Tendoy and the other falls upstream this year. I thought I wanted to, but then I got lazy and decided against it because it would require crossing the creek at least a time or two, and I didn't want to hike to the falls in my Crocs. I did that last year, and it hurt.
We rolled out, headed to our next site at 9B5, with three river fords along the way.
The first ford, Ferris Fork. The water is tepid thanks to the large thermal features just a bit upstream.
Approaching the thermal area on the upper Bechler.
Standing in the second ford. I didn't get a picture of the third one.
Love these cascades along the trail.
Iris Falls. Always impresses me how wet you get even standing up high, far away from this one.
We had a fire at camp that night, as we were able to find some decent dry wood. It sprinkled a few times, but there was no rain beyond that. Steve and I taught Andrew and Zach how to play euchre; a lost art. We'll have to play again next year to cement their knowledge of the game, since it's one of those quirky ones you only really pick up by repetition.
Day 4
It was a glorious morning, as the clouds moved off as we were starting the day's walk to Dunanda Falls. I struggled this day and the next with an achilles tendon injury that I can only deduce was from either spending too much time squatting in Mr. Bubbles (there's no good way to sit in there unless you're exceptionally tall) or wearing my boots too loosely on the first two days. I'm pretty sure it was mostly the squatting. Every step was rather painful. Ibuprofen helped a bit. In hindsight, it probably would have been better injury-wise for me to just have hiked straight out to the trailhead, but I really wanted to do the full trip, so I did, and I didn't regret it. I ended up having pain in my tendons for about two months afterward, so I had to run less often and only wear certain footwear for a while. I still feel the tiniest twinge here and there after a run, but otherwise, I'm back to normal now.
Classic Colonnade Falls
Disappearing into the fall foliage.
After crossing the lower Bechler ford.
Old scratches. There's always a lot in those stands of trees in the meadows.
Our camp for the night was 9A2. Really cool spot. Photos a little later on. We headed up to Dunanda after we got set up. There was a surprising number of people there, but it wasn't bad.
Sun hitting the tight canyon below the falls.
The falls.
I decided to head back to camp by myself before everyone else. As I descended the creek to get back to the trail, I came across a couple who had been at the falls. They were day hiking, and it was probably 5:30 p.m. So they had 8-9 miles to hike back, including a few smaller creek crossings and one knee-deep ford, and sunset would be at 7 p.m. They had come to the falls from the super steep trail above but had decided to try to find the lower way out, through 9A1. I explained the way to get out and get back to the trail and wished them the best. It didn't look like they had a lot of gear for cold, and they were not moving very quickly, but hopefully they had headlamps, because they definitely ended up doing several miles and maybe a ford in the dark that night.
Anyway, it was a nice, peaceful walk back to camp as the sun was close to setting. Pretty simple stuff, with scenery that's not necessarily considered breathtaking, but it was one of my favorite moments on the trip.
Prismatic effect in the distance.
Shadows growing long.
Lots of water crossings throughout the trip. Here's another one.
Back at camp, I gathered a little bit of firewood and got ready for dinner. Everyone else got back maybe 20 minutes after me.
Tents at sunset
It was a nice sunset. Good contrast to the overcast previous days.
It got pretty cold that night. A heavy fog came off the creek next to the fire/food area, and the meadow was pretty foggy too. The moon was bright and it all looked pretty spooky. It dissipated overnight, and there was a pretty decent frost that fell.
Day 5
Frosty morning.
That last morning was the coldest. I had to hold my hands on my fuel canister to get enough fuel flowing to heat up water for the morning coffee. It was nice once the sun was up.
Tetons in the distance on the hike out.
The hike out was painful for my achilles. Zach's actually started acting up on the hike out too. It was pretty uneventful otherwise.
I was glad I did the whole trip this time, and it further solidified my position that September and October are the best months for backpacking. Didn't really see much in the way of wildlife on this one, in contrast to last year. I think we'll do another trip in the area next year, but we may switch up the locations just a bit. Tune in next year!
Last edited: