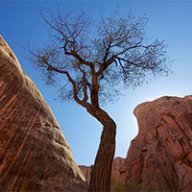 Joined

Aug 9, 2007
Messages

12,807
This is a slightly unconventional trip report, but don't let the 'backcountry' in backcountrypost fool you, this site is really just about the outdoors, even if it's just an out of the ordinary walk with the pups.
I got home from work on Monday night and Audra insisted that we load up a dog and head over to Wheeler Farm. Apparently this is the season for baby animals. And seriously, who doesn't love baby animals? We saw baby cows and baby goats and a bunch of happier than average adult farm animals. And to make it more interesting we took our youngest dog, Teak, the Doberman. She had a great time sniffing animals and only got upset about one of them which was a goat that looked exactly like a big shaggy dog.
Here are a few pics.
Now that's a happy cow.
The poodle-like goat that Teak did not like.
Sleeping baby goats.
Very cute and very playful baby goats. These guys would go crazy when I stuck my camera in their pen. They'd jump up at it and do all sorts of fun things but I didn't get any good shots of it.
Lil' Sebastian!!