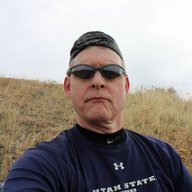 Joined

Dec 23, 2013
Messages

3,016
Way, way, way back in 1982, while I was a freshman at Utah State University, I took a year (three quarters) long biology class that was team taught. One of my professors from that team was Dr. Barrie Gilbert, who just happened to be researching grizzly bears, and had done some of his research in Yellowstone National Park. Dr. Gilbert was the first person that I knew that had spent any time in the Yellowstone backcountry. Of course, professors back in the day, kept office hours for average students like myself, to ask questions concerning the subject matter being taught. I scheduled to meet with him one afternoon, but I really didn't have any questions about the biology class, I was more interested in Yellowstone. Now after making up a couple questions about what we were studying, I then asked him to tell me a little bit about Yellowstone. He couldn't have been more generous. I could tell by the way that he spoke how enthusiastic he was about the Park, and I'm sure some of that enthusiasm wore off on me at 18. He also told me his story of encountering a grizzly bear while doing research in the Park. You see, Dr. Gilbert wore any eyepatch as a result of that encounter. While he didn't go into as much detail as this excerpt from his memoir, it was nice to hear him tell it to me with the excitement and fear in his voice .
I like to read about bears, and occasionally Dr. Gilbert's name will come up and it will remind me of my visit with him nearly 40 years ago. I saw his name again today and followed a couple of links to get to this article. It is from 2019, so for those who have already read it, I apologize.
Well, It's time for me to stop typing and let Dr. Gilbert tell the story since he does a much better job of it than I ever could. So if you like bears, people who study bears, are familiar with Yellowstone, like reading about a good person and what can happen to them, or how to get back up on your horse if you should happen to fall off, then I think that it will be a good read. I will always be very appreciative of the time he spent talking to a naïve freshman about Yellowstone, and some of his time there to me. And I am sure in some small way he helped lead me to a wonderful thirty so years of backpacking in the Park.
My Yellowstone Mauling and Mountaintop Rescue