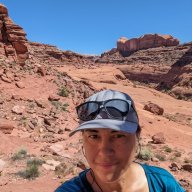 Joined

Jan 11, 2018
Messages

791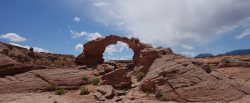 I recently reconnected with my Boulder/Vegas friend, Scott, and found out he had relocated to Moab. After some schedule coordination we agreed to meet up for a weekend of North Wash canyoneering. While paging through Kelsey's Technical Slot Canyons of the Colorado Plateau the night before, the Clearwater Canyon to Easter Pasture Canyon loop caught my eye. It was longish, but doable in a day. The forecast called for a high of 80F in Cataract Canyon, but there was water along the route.

Scott has many years of multi-pitch climbing guide experience, so I was optimistic he would also be game. We met up late Saturday morning in Hanksville, and I immediately handed him the Kelsey beta for Clearwater
. As expected, he was up for it. For Saturday we skimmed through the Poison Springs canyoneering beta, and agreed to do Arscenic and

the neighboring

Slideanide, time-permitting.
22 June.

Arscenic & Slideanide Canyons (

Poison Springs area)
We drove to the shared parking area and started with Arscenic. Arscenic starts off with an almost 200' rap, the only one on the route. There are a few downclimbs, some narrows, and a corkscrew section, but overall the canyon is brief. The return path provided sweeping views, including a mini arch. We finished Arscenic in ~2.5 hours, retrieved our rope, and headed over to Slideanide.

Slideanide is more technical, more scenic, and more interesting than Arscenic IMO. It's a great place to practice downclimbing skills with a few minor silos, chockstones, and some awkwardness, notably on the final downclimb/rap. We passed another party mid-route and ended up not needing our rope.

Overall, we were impressed by the quality of the canyons, however short. Before heading toward Hite, we grabbed dinner at Stan's and hung out with the 4-legged locals, a Great Pyrenees, a large mixed dog, and a fluffy Border Collie puppy.

Location and Approximate Routes
The Poison Springs area is SE of Hanksville, UT. These canyons are accessed from a side road ~20 miles south of Hanksville on highway 95. The parking is shared for both canyons.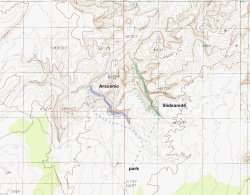 References
For detailed driving instructions and route beta see Kelsey's technical CO Plateau canyoneering book,
Roadtrip Ryan's site
, or
Bluugnome
.

Gear
60m rope (optional for Slideanide if all in the party are comfortable downclimbing minorly siloed chimneys with exposure)

~20' of cord or webbing to lower your pack

locking carabiners

extra webbing/rap rings/knife (in case anchors are in poor condition)

dry bag (neither had any water this time, but there can be pools up to waist deep)
Arscenic Photos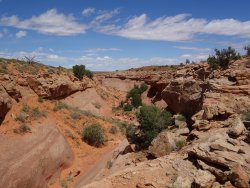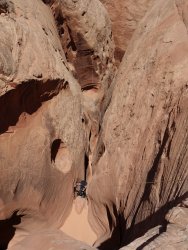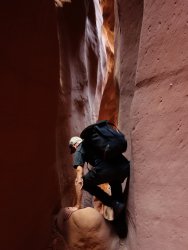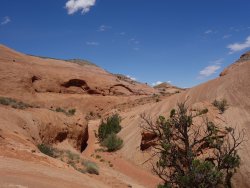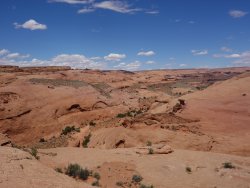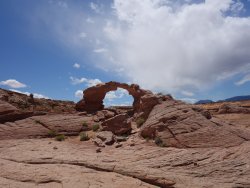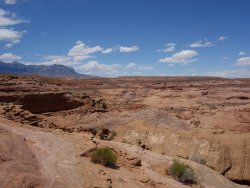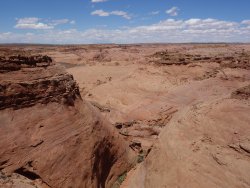 Slideanide Photos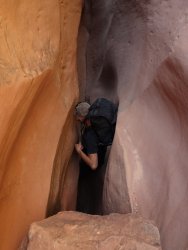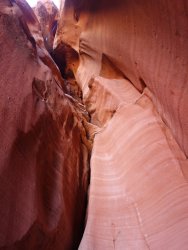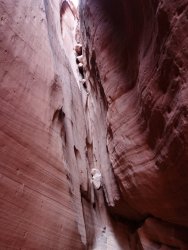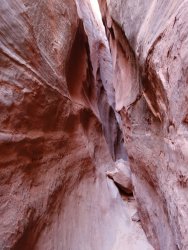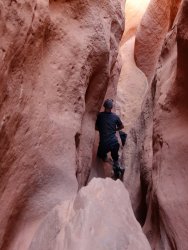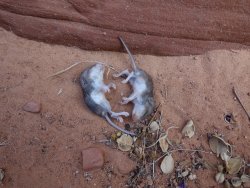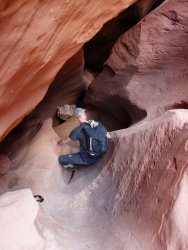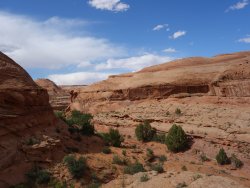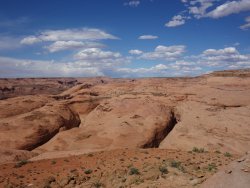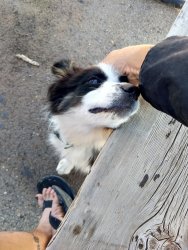 23 June. Clearwater Canyon to Easter Pasture Canyon Loop (Cataract Canyon area)
Knowing that we had a long day ahead on Sunday, we headed toward the Clearwater Canyon trailhead. We managed to find a decent campsite ~8 miles in. In the morning, we made the rest of the drive to Clearwater Canyon, planning to skip the short car shuttle.

At 8:30am we started down Clearwater. The canyon was lovely and the walking was easy. The first few anchors were easy to locate, so we didn't bother looking at the beta. Hence we missed the ruin and pictograph panel, a pattern we would continue to repeat.

We opted for avoiding the stagnant pool on rap 2.

The canyon passed through several lush riparian zones with ferns, tadpoles, and frogs. The 5th rap anchor was somewhat more challenging to locate (without using the GPS) since there were several possible tiers on a steep at times, exposed, loose hillside. With the raps done, there was some large boulder hopping (reminiscent of the Red Rock Canyon climbing canyon approaches) to the Colorado River.

Near the river, the sandy bottom changes to mud. The river current was swift with the runoff, so we took Ryan's advice and hiked along one of the benches above the river. For the most part there wasn't a trail, but the walking was easier than described. It was, however, quite warm and exposed to the sun and it felt long for 1.5 miles. We took a shade break partway in an alcove. Easter Pasture Canyon isn't obvious until you get close.

The canyon was quite rocky, with rounded boulders of various sizes. We didn't find it particularly annoying (not having overnight gear and now in partial shade). As we climbed higher, we encountered more riparian zones and stepped rock faces to bypass pour-offs. The scrambling was fun. Near the final pour-off the description called for heading a side canyon, which took us into a chimney that brought us close to the rim. This turned out to be farther east than the described route, but put us onto a ledge to which the described route would later connect. We walked along the rim to Easter Pasture.

For us Easter Pasture was the sloggy part, between the sandy wash and the acres of annoying cheatgrass. With the junipers the cedar gnats also started to get bad. We made another deviation from the described route and hopped onto the rim sooner, hoping to avoid the grass seeds. We rejoined the route at the head of the final canyon and finally made it to the road. It was an easy 1.8 miles of dirt road and we made it back to the car at 9:30pm. By 11pm I was back on highway 95, but this time I didn't try to drive home.

Location and Approximate Route
The trailhead is accessed from a side road just past the Dirty Devil bridge S of Hanksville (between mile markers 46 and 47). It's ~29 miles of dirt road with enough bumps and drainage crossings to make it slow going. Plan on at least 1.5 hours. Setting up a shuttle only saves you ~1.8 miles of easy dirt road walking, not worth it IMO.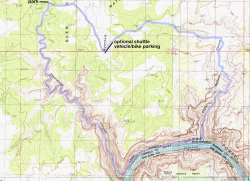 References
For detailed driving instructions and route beta see Kelsey's technical CO Plateau canyoneering book,
Roadtrip Ryan's site
. In general the anchors were quick to locate without a GPS with the exception of rap 5.

Gear
2 x 60m rope or 1 rope, 1 pull cord

locking carabiners

extra webbing/rap rings/knife (in case anchors are in poor condition)

water filter or other purification system

overnight gear (optional)
For those new to biner blocks and pull cords see
this helpful Canyoneering USA tutorial
.

Seasonal Annoyances
cedar gnats (Culicoides spp.)
cheatgrass (Bromus tectorum)

The Colorado River section has southern exposure and the easier walking is on a ledge above the river, so it can be hot. 1.5 miles, but a rugged 1.5.
Photos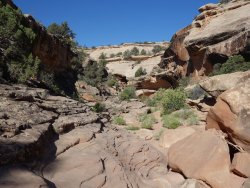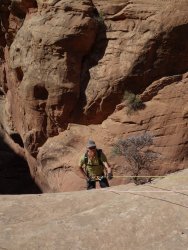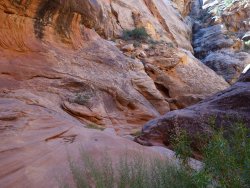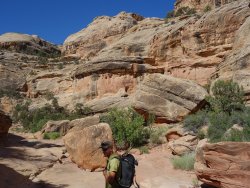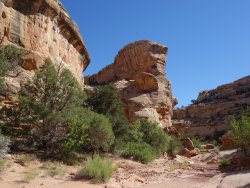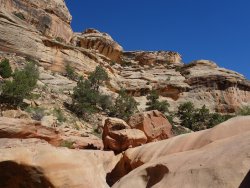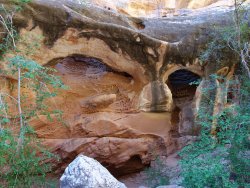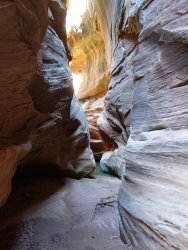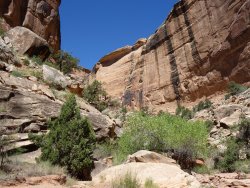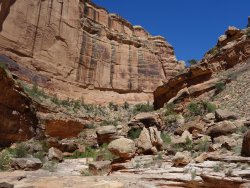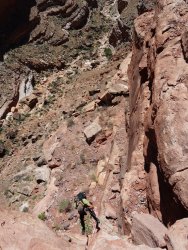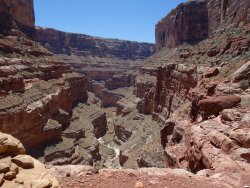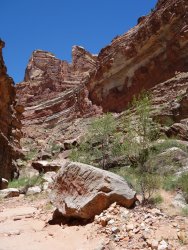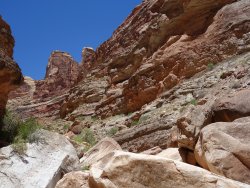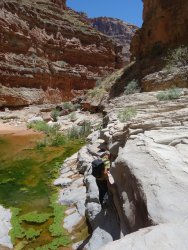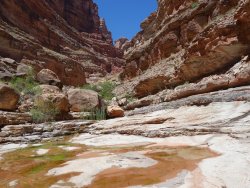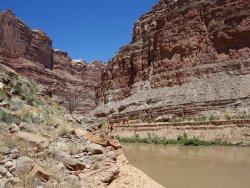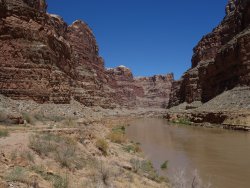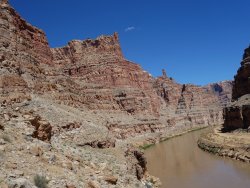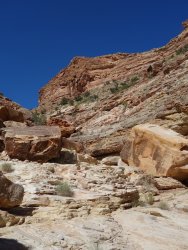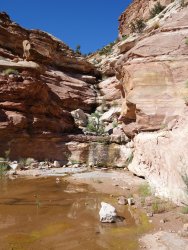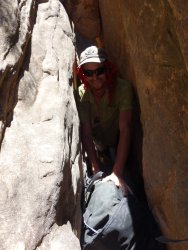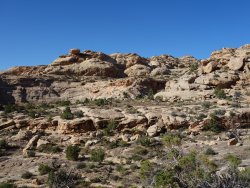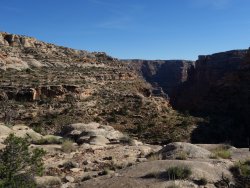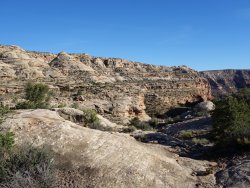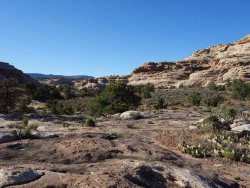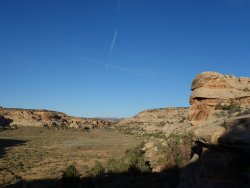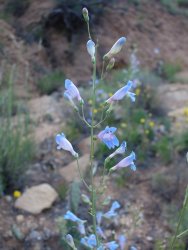 Last edited: