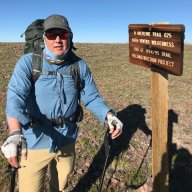 The mountains are calling and I must go
.
Joined

Mar 31, 2013
Messages

1,018
For several years I've lead scouts (14-15 year old) through Arches National Park. It seems to be a place boys like because it gets chosen every year. So I've done all the popular hikes (The trails off the Devils Garden TH, Delicate Arch, the sand box trail or whatever it's called, Cornoa Arch) 5x over - which is okay I love it too.

Having said that, this year (2015) I want to try some new trails.

I've yet to do the Fiery Furnace. Would any of you recommend that hike? Do you feel like the ranger guided trip was necessary or added anything to the experience?

Other trails in or out of the park worth doing?