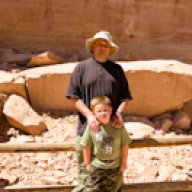 Joined

Feb 23, 2012
Messages

128
After spending months working a class for work I finally finished and had some time to get out with my family. We left Ogden on Saturday morning March 31st and headed to Moab. After checking into our hotel we drove to Canyonlands National Park for our first hike of the trip.
My wife and two boys on the trail to an "unknown ruin".
My 6yo at the "unknown ruin".
What a view. This was our first trip to this site and boy what an interesting place. I love the view. After this hike we went over to the Green River Overlook. My boys have decided that a trip around the White Rim Trail is in order. Who am I to disagree (add to bucket list for this year). We then headed into Moab for dinner.
After dinner we went to Arches for some night photography. This is the first that I have tried to do anything like this and after a few tries I got it right. I also discovered that the only time to visit Arches is after dark, all the people leave when the sun goes down. I really wanted to do some star trails but my 6yo was tied from a long day and was more than ready to go to bed.
The next morning I was up a 4:30 and tried to sneak out of the hotel room to get some sunrise pictures at Mesa Arch. I guess I'm just not quiet enough because I woke up both boys and we all headed out for the sunrise. We arrived at Mesa Arch with well over an hour to go until sunrise to find at least 30 people doing the same thing I was.
I tried to get the best spot I could squeeze into but I wasn't real happy with the end product. Time to plan another trip.
The boys had fun messing around with a few jump shots.
After Mesa Arch we went back to Moab for a shower and breakfast.
Sunday ended up being extremely windy and warn ahead of the cold front that would come through on Sunday night.
Next up was a hike to Delicate Arch. My 6yo had never been and 11yo was there at least 6 years ago. The wind was blowing so hard at the Arch that I just wanted to turn around and go back, I forgot to take a picture of my boys.
On Monday morning we woke to snow in Moab. We spent the day on a scavenger hunt for petroglyphs in the Moab area. All the driving was too much time in the car.
We ended Monday afternoon back at Arches trying to get some decent pictures.
My first try at HDR.
The very last thing we did was to walk to Landscape Arch. I'm always amazed that it is still standing.
Featured image for slideshow: