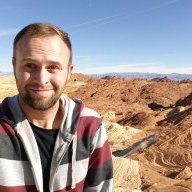 Joined

Jan 19, 2012
Messages

739
This will be a compilation of several hikes down arch trail in the red cliffs national conservation area. This is one of my favorite winter hikes! Hiking this trail in the summer though would be insane, unless you were planning on taking a dip in the Virgin as well, Virgin River that is
. This is in the Babylon section of Red Cliffs. Typically this trail doesnt see much traffic, on weekends there are a lot of ATV's on the roads but they cant drive on the trails. There is quite a bit to do on this trail. Lots of opportunity for exploring up the washes, into the reef, summit the mountains (sandstone, sand, etc) and swimming in the Virgin River.
My first time I my brother and I picked a trail up sandstone mountain and were amazed with spectacular views of Washington Country. In one direction we saw Red Cliffs, and Pine Valley, another direction was Zion National Park, another...
After finding a way up and down the mountain we gradually worked our way down through a maze of sandstone until we found the arch.
Another trip happened in early spring. It was late afternoon, and for photography my favorite trip of all time. This time we immediately went to the arch, and then explored the maze of sandstone between the arch and the reef (called the east reef?) This hike could be made by just about anyone and would be a great one for a family.
My last trip out there was a couple weeks ago. I took my longtime friend and his wife down to the arch. He had lived in Southern Utah his entire life repeatedly said "I cant believe this stuff is down here" It is an amazing and relatively unknown trail (well compared to the Red Cliffs Recration Area on the other side of the freeway) We hiked to the arch, explored, went down the river (I was hoping to see a great blue heron which are often found in the Virgin River, but didnt)
Featured image for slideshow: