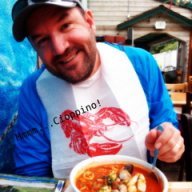 Joined

Mar 13, 2014
Messages

42
Hi all,
Disclaimer: This is my first post (excluding noobie intro) and first trip report. I claim no excellence in prose or photography so be patient with me. Hopefully I'll get better with both as further trips come my way.
Overview:
On 2/25 I left home in Orem and headed south on Hwy. 6, then to Hanksville, and on to the Arch Canyon TH. It's a 5+ hour drive so after arriving at the TH I hiked in to my campsite as quickly as I could, set up camp, had dinner and that was it for that day. No time for photos. It was a nice hike in and evening but the length of the day was quite tiring.
On 2/26 I slept in seriously late ( I work weekend nights so began the trip on a serious sleep deficit). After late breakfast headed up Texas Canyon for a leisurely ~3 miles, some photographs and back to camp.
On 2/27 woke up at a reasonable time and walked up Arch Canyon to Keystone Arch, nearly struck by lightning, some photographs, back to camp and too many hours in the tent due to heavy rain/snow.
On 2/28 woke up, packed, back to TH and home. This time via Blanding, Monticello, and Moab.
So here it is:
DAY 1:
The first day was a hike into Arch Canyon on a wide, recently-graded ATV trail. It is about 9 miles to the NFS boundary and the area where I set up camp. Fortunately I encountered no ATV traffic this day, probably because it was a Tuesday in February. It is a flat but fairly long hike after the 5 hour drive. The canyon is 1/4-1/2 mile wide most of the way with numerous stream crossings with plenty of rocks so no wet feet necessary. Weather was high 50's/low 60's and mostly sunny. I set up camp near the base of Cathedral Arch, ate dinner, listened to some music as the sun set/stars appeared and went to bed. The photos from the last day are the same trail so will cover this day but it was overcast on the way out.
DAY 2:
After some sleep to correct a serious deficit, I headed up Texas Canyon. Because of my late start I only made it about 3 miles at a rather leisurely pace and then headed back to camp. Finally here are some photos:
Campsite: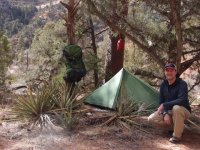 Typical walls, towers and frozen stream of Texas Canyon: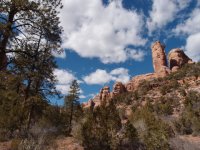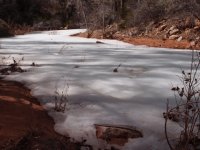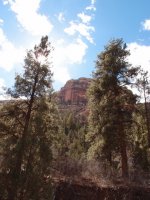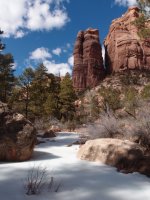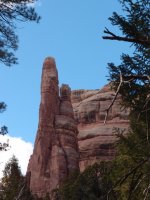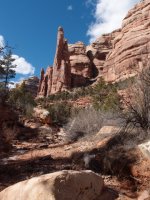 Very few signs of the approaching Spring season, but here is one: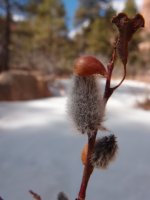 A cool rock: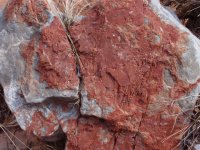 A waterfall that would be very nice with a little more flow and some Spring color: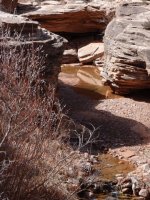 A selfie in Texas Canyon: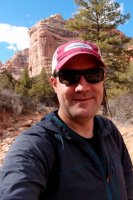 Some final photos as I returned to the mouth of Texas Canyon. The arch is Cathedral Arch at the junction of Texas and Arch Canyons; in regular mode, cathedral room-lit mode, and reflection mode: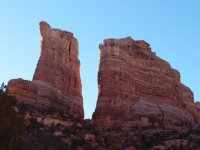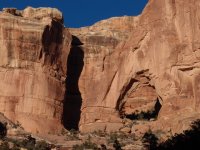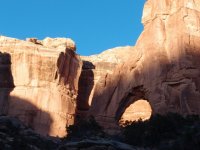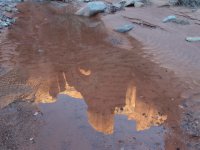 My favorite new toy for this trip. I really liked it because the fire building really slowed down the cooking process and it immediately covered my brand new Ti pot in soot. This was a good direction for me because sometimes I feel like I expend too much energy keeping my gear nice and clean. I need to get past that and this stove definitely helps : )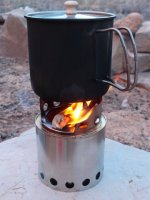 A poor hand-held shot (broke my tripod on day 1) of my other cool toy, an awesome flashlight that is too big for backpacking but I just like it: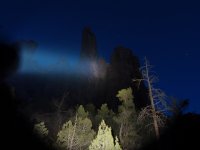 Overall, day 2 was very leisurely and I definitely did not put down the miles. I got a late start, walked slow, looked up and around a lot, and just stopped and Be'd (my redneck term for mindfulness) several times. Very enjoyable and just what I needed to clear life's stresses.
DAY 3:
Got off to an earlier start and walked up Arch Canyon. My goal was to at least get to Keystone Arch. The day began a little colder than day 2 (low 30's) and overcast but didn't look at all threatening. I packed a rain shell just-in-case. The photos.
Up the canyon from campsite: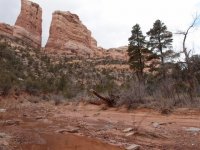 A tree: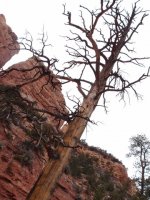 A few of Angel Arch: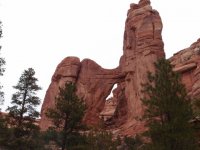 To the left of this formation is further up Arch, to the R is Butts Canyon ( he he, I said Butts...Beavis and Butthead anyone):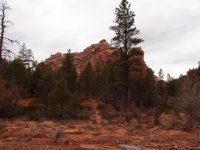 Arch creek and a tiny waterfall through a hole in the rock: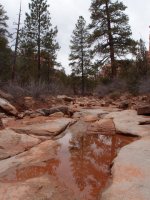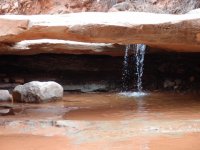 Frozen waterfall: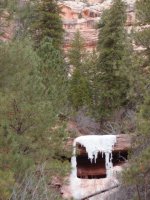 Wall in Arch Canyon: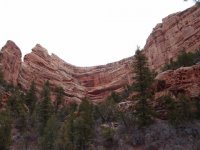 First glimpse of Keystone Arch: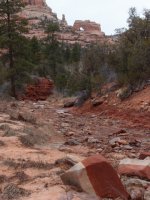 You know life is good when you are eating something called 'Pasteurized Process Cheddar Cheese Food:'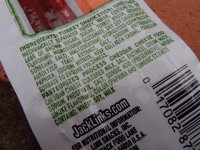 Another small sign of Spring: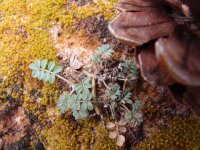 Keystone Arch from high on the opposite side of Arch Canyon: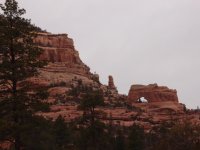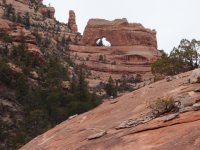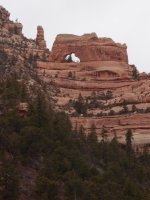 A selfie at Keystone: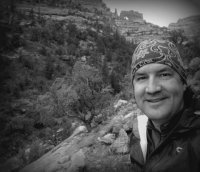 Here comes the adventure. It had been intermittently sprinkling on and off for the past hour at this point, but it didn't seem like it was getting any worse. There was even a bit of cloud-clearing to the Southwest. I had planned on hanging out under a tree kind of high on the side the canyon, eating and being, then head up the canyon for another hour or so. However, I began hearing some distant thunder and the rain was mildly on the increase, so I packed up and decided to return to camp. After the 10 minutes or so that it took to get down from the hillside and to the bottom of the canyon the rain had picked up to a steady, moderate rain and the thunder had moved closer. The decision not to continue up-canyon was correct. Then within about five minutes Zeus got pissed. The rain became full-on torrential and the and the lightning and thunder.....very close and intense! There's not much of a trail at this point in the canyon, mostly in the stream so I was trying to run as fast as I could down the frozen stream. Scary, exciting, and probably funny if someone had been watching. I've been fairly close to lightning before but usually with at least a slight pause between lightning strike and thunder and most of those times I had somewhere safe to go. Not this time. The lightning and thunder were simultaneous, powerful, and deafening. It was striking almost constantly and in all directions. I just kept running. After about 15 minutes I needed a breather so I found a small opening in a rock that I ducked into. Somehow my bodily functions remained intact, and my pants remained clean ; ) After a few minutes rest the conditions had not changed so I resumed my chaotic trek, it had also began to snow. This kept up for another 15 minutes or so and by that time it seemed like I was low enough in the canyon for some safety so I leaned against a tree for a few minutes and caught my breath. The lightning/thunder began to move off to a safe distance and that was good. I have seriously never been that scared! It was awful but felt kind of invigorating after the danger had passed. Kind of cool but not enjoyable at the moment. I was extremely sure that I would be dead for about 45 minutes or so. But it didn't work out that way, cool.
Anyway, no pictures of the worst of the event because I put my camera away due to rain. Here is a picture looking back to Keystone Arch just before it all went to hell: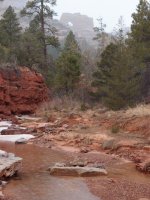 The sky then quickly and almost completely cleared and here are some photos of that. Very cool with backlit trees, steam, and receding clouds. I couldn't capture the beauty fully but here are my attempts: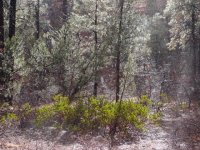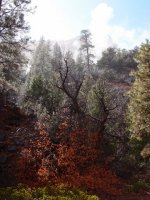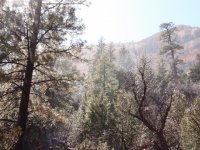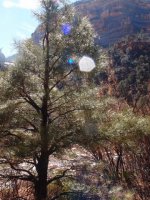 Another of Angel Arch on the way back with blue sky. It is hard to believe that less than an hour before this photo I was getting my a** kicked by lightning, thunder, wind, rain and hail: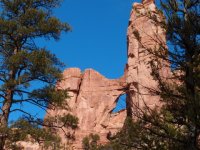 Cathedral Arch again as I near my campsite: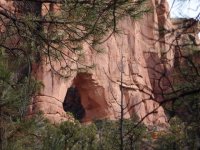 Some detail shots in Arch Canyon: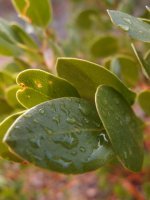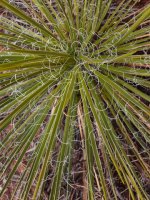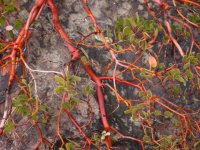 Typical section of trail in Arch Canyon until a bit past Cathedral Arch, then it's mostly stream/bank walking: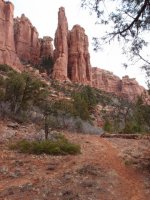 Another of Cathedral Arch as the sun sets: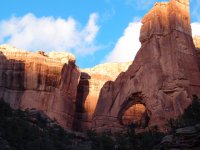 Arch Creek with the increased flow and muddy water following the storm. It was nicely clear before this: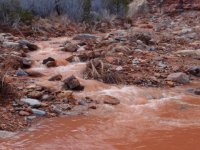 The sky remained clear until about 10 minutes after reaching camp, then everything repeated. Sprinkling rain and distant thunder advancing to torrential downpour and lightning/thunder all around. This lasted for about 4 hours and confined me to my tent for the rest of the night but I felt a little safer being lower in the canyon and the psychological comfort of a thin silnylon tent amazing. This evening involved too many hours in the tent but whiskey, music, and a book made everything alright.
DAY 4:
This TR is ending up longer than I had intended and I don't want to test anyone's patience with my mediocre photography and words so I'll keep the last day simple.
The sky cleared late during the night and it got very cold (high teens). Here are some photos before leaving camp on Friday morning: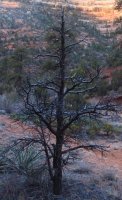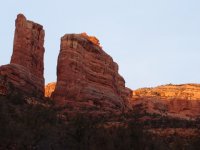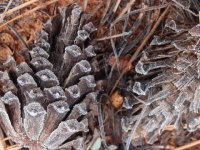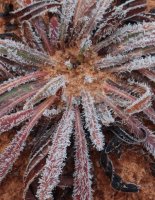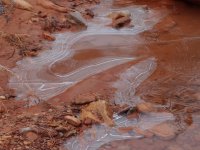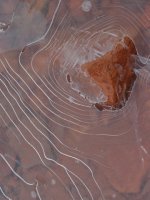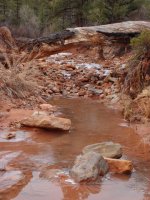 Typical of lower Arch Canyon: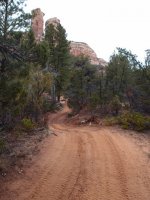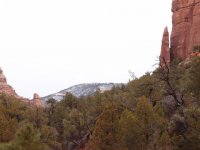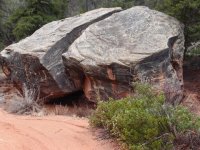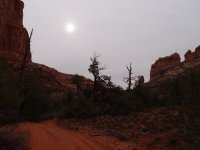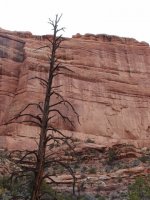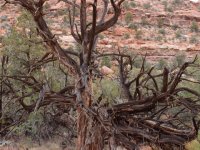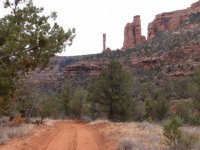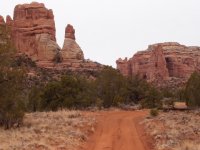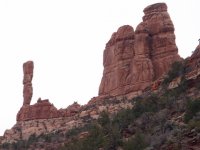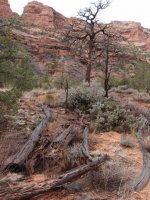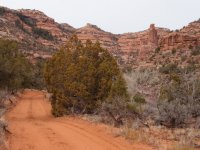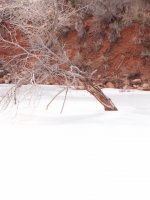 Some cool layers: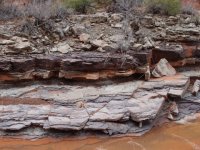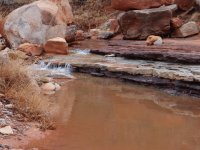 Prickly Pear detail: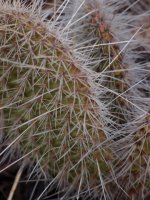 Me in lower Arch Canyon: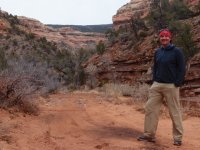 I think I'm the first to attempt ice-skating on Arch Creek: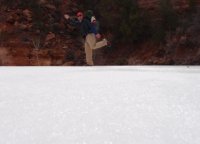 A welcome site at the end of a long walk: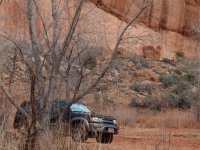 Arch Canyon ruin, near the TH: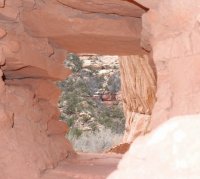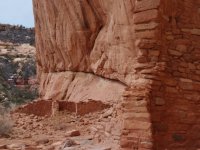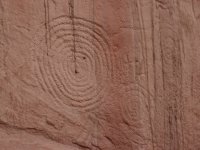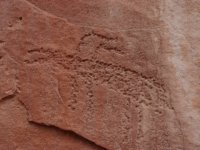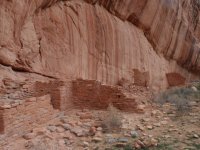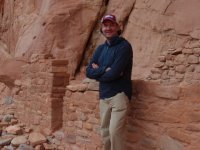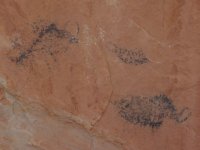 An awesome bacon, double cheese-burger at Milt's in Moab. Thanks to those here that recommended Milt's. A great way to end a trip. They just need beer : )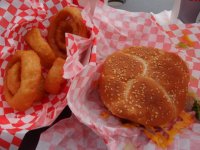 That about wraps it up. The way home was through Moab and went smoothly except for the dozens of semis to get stuck behind on Hwy 6. It was a great trip!
A special thanks to:
My wife for understanding that sometimes I just need to get away.
Same to my great kids.
Nomadic Stoves for the awesome, tiny, and light wood-burning stove.
Wild Turkey 101 for making pleasant the extra tent-time.
My super cozy Western Mountaineering bag for keeping me warm when it got much colder than I planned.
The highways for getting me there.
Red rock, sun and sky.
The experience of being scared to death but making it through, it was invigorating!
Thanks for reading.
Last edited: