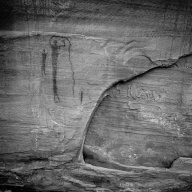 Joined

Jan 20, 2012
Messages

108
As a native of the Pacific Northwest, the month of February conjures up mental images of endless gray skies, two to (occasionally) four hours of daylight, and a constant slow drear deluge of rain. I'm not someone who hates the PNW, it is a beautiful place to live, but it is so ingrained in my make-up that short sleeves and shorts in February still seem an oddity.
I first heard of Aravaipa Canyon through iconoclastic author Edward Abbey in his collection of essays entitled "Down the River." The original piece he wrote for the NY Times can still be found
here
. In fact, Abbey served as a seasonal ranger here for a spell, and this canyon and its environment is well suited to his muse.
Being the first trip of the year I had small expectations. These were soon met when we did all of 2.5 miles the first day to a sandy beach where the river bent sharply to the east (in our defense, we didn't get on the trail until about noon, and the photo period being what it is this time of year.......). The site was choice and reminiscent of many "river camps" we've stayed in in the past. It was hard to pass up. Across from camp rose the chaotic chiseled ramparts of red rock the seemed to reverberate the soft sounds of flowing water as it made its way south to the Gila River.
Rock and flowing water across from camp
River bed across from camp
It had been roughly four months since I had last spent a night out-of- doors, at that time in the lower reaches of Grand Gulch in SE Utah. Too long ago. As a result, being outdoors "again" flooded the senses, reminding me not only of its necessity, but also of the intrinsic personal value in the form of perspective. Watching the waxing moon come up over the canyon from my tent the first night, blanketing us in its soft glow was a refreshing deviation from the artificial/sterile glow that for months has made up my world.
Waking up the second day early, we decide to move slowly up-canyon to the confluence of Horse Canyon and Aravaipa canyon. Along the way the character of the stream is in constant flux, a chameleon between the red walls which contain it, it is at once swift and frothy as well as slow and deferential. The canyon walls seem to reflect this constant metamorphosis as they too undergo constant physical change in form, breadth, and height. I walked several unique sections that reminded me of the basalt laden canyons of the Owyhee River and still more that bore resemblance to the canyons of the lower San Juan River as it flows towards impounded waters, witness to the slow death of a river incurred by that dam near Page, AZ.
Joe crossing the stream, somewhere mid-canyon
Very Owyhee-esque in this section
Dead leaves float quietly down this perennial stream, gliding softly over an underbelly of smoothed out river stones and vivid green rope-like algae. It is so quiet here that the sound of a gust of wind moving-down canyon seems to catch one by surprise in a place where the only constant is the continual flow of water that makes for a nice deviation from the traditional hiking trail.
It is winter here and it seems easy to overlook this fact as the comfortable day-time temperatures reach into the low 60's, allowing for perfect hiking weather. What seems so special to me about hiking in this place at this time is the nature of the canyon light. February, with such a such a short photo period, allows for a quiet and subdued type of light within the confines of the canyon walls that seems to positively add to the ambiance of this lonely shoulder season trip. This nature of light, somehow different from the more harsh light of the later seasons, also provides for interesting photography.
We make it back to camp later than expected and finish up our dinner just as the moonlight engulfs the canyon. You could, and Abbey did, navigate this place under such light it is so bright. At peak season, the BLM allows 50 people per day to hike this stretch. It would seem that such a policy would unduly rob this canyon of its intimate gifts. I am glad to be here this time of year.
Big plans and ambitious undertakings are afoot for 2012, and while I am excited, I realize that many of these outings will not have the level of introspection evident in our time in the canyons of Aravaipa. The coming trips will require more stringent planning, baseline miles to be made, and an ever underlying "point A to point B" mentality. They will be special in their own right, but there is also a beauty in experiencing a place absent from those confines. It does one well to undertake these types of trips from time to time, as the perspective garnered is ever so valuable.
Niki crossing the stream on the way back to camp
Amazing winter light in the canyon