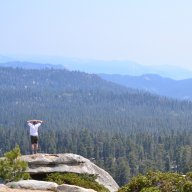 Joined

Jul 22, 2016
Messages

67
Continuation of
part - 1
DAY 3
After enjoying the early morning howls of the coyote in the wash we got up and set out for the south end of the park. The goal was to reach a place called "Indian Hill". Now we had read online that the outcropping marked Indian Hill on the Tom Harrison map was not the actual site. We really only knew that it was west of the old railroad tracks, so we had some exploring to do.
Shot of the old railroad tracks, which are apparently going to be put back in use sometime in the near future.
Placed in 1931
Juniper with some berries
After some exploring we found some interesting rock formations on the far side of the flat
But alas, not what we were looking for. So we re-traced our steps and started over fresh. We decided to head for a rock outcropping that was tucked away behind the west ridge we were exploring. When we came upon in, we knew it was the "real" Indian Hill.
The outcropping is MUCH bigger than in looks in the picture. Wish I would have someone stand close for a reference point. The prominent rock in the center of the picture is where the cave in the following picture is located.
This cave was about 4 feet high at the highest point. When we saw that the roof was smoke-blackened, we knew this was the right place.
We started to see mortars but could not find the pictographs we had heard about. All we knew is that they were located in sheltered alcoves. She we looked high and low.
Kumeyaay Indian fertility symbols.
nice natural shelf. I can just imagine a Native American olla filled with seeds or water being placed here
View from the top of the outcropping.
After searching everywhere for pictographs and finding none, we decided to sit in the shade each some lunch before heading back to the car.
After dinner and the stars came out I decided to try my hand at some night sky photography. Unfortunately, my novice skills don't do the desert sky any justice.
DAY 4
On our final day we decided to head up to the end of pinion wash and climb up to Hapaha Flat, the site of one of the largest seasonal Indian encampments in the Anza-Borrego region. We first had to do some boulder hopping, followed by some route finding which lead us to a 4x4 road and up onto the Flat.
Entering Hapaha Flat from the 4x4 road
View the Flat
Split Rock. A site of ceremonial significance and also houses some pictographs
Until next time Anza-Borrego....