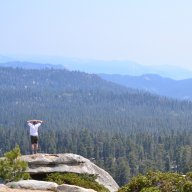 Joined

Jul 22, 2016
Messages

67
Before starting on this thread I have to make one thing clear; my girlfriend (Gen) is, and always will be, a desert rat. This is not a bad thing of course, its just that she has spend almost every spring in Anza-Borrego Desert State Park since she was a year old. Her parents have spent the last 30 years exploring this unique environment and they have a great appreciation for this place which has rubbed off on her.
Now here I am, entering two years ago and a complete novice to the desert scene. I grew up camping with my family but always in the mountains (even though I lived an hour and half from the Anza-Borrego desert). So we decided to take a little trip to explore the area. Gen and I headed out on a Thursday in mid-October and were planning on meeting up with her dad the following night.
On our way out I was hearing stories of streams, pictographs, native american encampments, tarantulas and big horned sheep; all of what was to come. We set up camp late in the day and just relaxed before retreating to the tent early.
DAY 1
We left camp and headed over to the base of the Santa Rosa mountains to a place called Coyote Canyon. The park closes this 4WD road from June 1st - September 30th to protect the creek that runs through the canyon for Big Horned Sheep.
After some pretty intense 4WD we reached the end of the road at what is called on the Tom Harrison Map: Upper Willows.
View of coyote creek from atop a bolder pile.


The sign says it all.

Since there was no real trail, we decided to hike/bushwhack our way down the creek to explore the area. Apparently this site has a rich history of Indian activity, cattle ranching and homesteading. Some remnants can still be seen today.
Not sure what this is, maybe a old pump.
Views from the trek
not sure if this a mountain lion or large coyote track. Saw lots of big horned sheep tracks but no sheep.
Crossing at coyote creek
After some time exploring we dipped our feet in the cool creek, ate a snack and headed back to camp to meet up with Gen's dad.
At camp we made some lunch and hung out until the sun started to set. At this point we set out with our flashlights and lanterns for a tarantula hunt. Apparently, every year there is one week in October that these hairy spiders come out to mate. Not knowing if it was going to be this week, we set out with our fingers crossed. We drove up and down various washes before we came upon one just minutes from our campsite.
He seemed pretty agitated so we observed from a distance.
After returning to camp we cooked up some dinner, and the beer and stories started flowing.
DAY 2
After getting a late start to the day we headed to the southwest portion of the park to see some pictographs. This is a pretty easy 2.0 mile round trip hike on a well-maintained trail.
After the hike we stopped by a historic monument that marked a location of the overland mail route from St. Louis to San Francisco in the 1800's. This is some pretty rugged country to travel though.
Back at camp we tried to keep the bees away by placing a wet sponge outside of camp, it kinda worked haha
After dinner we headed to a spot where Gen and her dad had found an unmarked Indian encampment a few years before. We saw lots of pottery shards in addition to an amazing arrowhead. Neither had ever found anything so intact and detailed. It was incredible.
Once the sun faded we set out for another tarantula hunt, hoping that there would be more out tonight. We found one that was pretty docile and walked right up our hands.
At camp Gen's dad dug into his trove of knowledge about historical habitation of the region. In addition we discussed the local lore. From Peg-leg Smith's lost gold to lost viking ships and cannibalistic giants, it was shaping up to be a pretty great trip.
The following day we were headed to a large Indian encampment off the beaten path at the south end of the park. But before dawn were were awaken by the howls of a lone coyote in the wash, it was pretty cool and a lot closer then it seems on video/audio
to be continued....