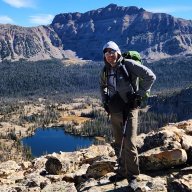 Joined

Aug 6, 2019
Messages

345
This is a potential destination for me in early September, instead of the Uintas.
It may well get put off 'til next year, but I'd appreciate any feedback.
The Uintas aren't looking good, simply due to the rental car situation. The prices from SLC are insane(currently $1230 vs. $609 for the same car and dates in Seattle).
The heat wave, which briefly waned in WA, appears to have made a comeback, with temps in the Stehekin area hitting high 90s, and greater than 100F later this week. Temps appear to be much lower just to the northwest of there, but one of the two loops I'd like to do dips right close to Stehekin(Rainbow/McAlester Pass Loop). If this continues for another couple of weeks, it'll be outside my trip planning window.

Whenever it actually happens, I need easily accessible loops off SR20, so the current plan is:
-Devil's Dome Loop via East Bank on SR20 at 40.4 miles
-Rainbow/McAlester Pass Loop via SR20 at 31.5 miles.
Any comments on those are welcome, but I will not likely have much extra time to entertain dayhikes or other overnight options, as these are listed as 4 and 4-5 day loops, respectively, and I'll just have 7 days/6 nights.
That doesn't mean I wouldn't like to hear about lesser known alternatives, though!

I'm mostly wanting to know how many people there really are in September.
The NP itself officially shows very little visitation, but the nearby recreational areas sport some huge numbers. The NPS site's "Backpackpacking Loops" section also warns of sites on one of the other loops(Copper Ridge) filling quickly.
Am I really going to have solitude in this "seldom visited" NP, or is the reality something very different?