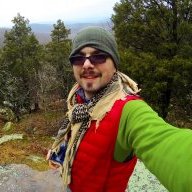 Joined

Jan 21, 2012
Messages

202
Anybody use battery packs whilst out backpacking? I'm not ashamed to admit I'm pretty top heavy when it comes to taking electronics into the back country. If I take just about everything I'm traveling with the following battery items. A camera either ps or dlsr. A GPS unit that takes 2 AAs. A Steripen that takes 4 AAs. A headlamp that takes 3 AAAs. (I'd like to change this out to one that runs on AAs though.) A cell phone. A flash unit 4 AAs. This is a lot of power items.
I was recently thinking about taking a larger battery pack, and a fold-up solar panel.
I haven't yet calculated my real needs but I was thinking around 4000 to 5000 mwh battery with a 7 or 13 watt solar sell. I could charge the battery pack while backpacking or at camp and then use the main battery to charge all the rest of the batteries.
My other thought was to charge the small batteries right off the solar, but then I think I'd be constantly stopping to swap batteries, charging batteries that really didn't need charged etc. If I charge one battery pack I could charge for the whole day while hiking and then use it charge batteries at camp as needed. That way if I didn't use it that much at camp I could choose to pack my solar panels the next day and not charge anything.
This seems good on paper, but the question I'm looking to answer is how does it actually work in the real world? Anyone have any first-hand knowledge? (I'll even accept "my buddy earl says,")
Thanks.