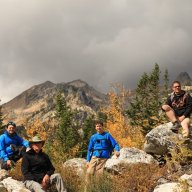 Joined

Aug 21, 2018
Messages

527
So I have a Columbia Outlet near me and time to time I find it too difficult to pass on a deal. I believe this store receives sample items produced for potential next years designs. . . there is always some new and oddball stuff.

Last year I bought some Mountain Hardwear Pants (I consider them hiking pants. . . they have a softer feel almost like a pair of khakis) and I'm not sure what I was thinking at the time as they are obviously not my size. One pair is a 32 waist/32 inseam and the other is 32 waist/30 inseam. I'm typically a 32/34. . . trying them on reveals a lot of ankle. They may be good for fording waterways but probably not the best thing for me to be hitting the town in. No specific product "name" other than the Mountain Hardwear ID -- these may not yet have had a designation if they were samples.

Both pair are new, I removed the tags/washed them but that is all. If someone can use them/wants them I'll happily mail them your way. . . either that or I can donate them to the local Goodwill. Any interest you can reply or send me a PM.

Thanks!