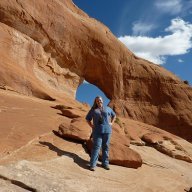 Desperately Seeking Sandstone
Joined

Jan 21, 2012
Messages

1,692
I recently started a blog on my website, so by the power of copy and paste I plan to FINALLY start regularly posting trip reports on BCP. Woohoo!
January 31st - February 1st, 2015

Afterglow
The Great Salt Lake is a remnant of ancient Lake Bonneville. While the current size of the GSL pales in comparison to the territory covered by Lake Bonneville, it covers a sizeable portion of northern Utah. It's also a fascinating and integral part of the landscape. After the Great Lakes, it's America's largest lake, and it's saltier than the ocean. It's host to a number of islands that provide crucial habitat to many migratory birds. Additionally, when cold air meets the warm waters of the lake from fall through spring, we get lake effect snow, which is thought to be partially responsible for making the "Greatest Snow On Earth."
I've visited the two most accessible islands on the GSL, Antelope and Stansbury, multiple times. These islands might more accurately be called peninsulas, since they each have a causeway allowing vehicle access. It occurred to me recently that I've never spent the night on either island. I decided that this year I would correct that.
We are nearing the end of the warmest winter I can remember in all my years living in the Salt Lake area. It seemed like a good time to take advantage of the warmer weather for a winter camping trip close to home. The forecast called for highs in the mid 40's and lows in the mid 20's. Not too shabby for January!
I drove to Antelope Island late in the afternoon on Saturday, and secured a campsite. I half expected to have the place to myself, but found that several other groups had the same idea. After I set up camp I drove toward Buffalo Point to catch the sunset. The trail to the point is only about a third of a mile each way, but it's all uphill. When I got half way to the top I realized that I left my camera in the car. Aw man! I had everything else I needed, but somehow managed to forget the single most important item. I ran back to my car and began the uphill hike all over again.
I noticed quite a few people heading to the top, and I wanted to have a little privacy, so I settled on a nice viewpoint along the way. While there weren't many clouds in the sky, the lake will often take on the colors of the setting sun, so you can enjoy a beautiful sunset from here even on a clear day. I hung around for a little while and watched the colors fade.

Sundown At White Rock Bay
When I returned to camp I made a fire and ate my dinner. I was curious to see how many stars would be visible in the sky since it was a clear night.Some, but not too many. I guess the island is too close to the city lights to have dark skies. Stansbury Island would probably fare a little better. One perk of being so close to the city is that I had enough service on my phone to shoot off an email to my friend Lusha before I went to bed.
When I woke up in the morning I drove to White Rock Bay for sunrise. When I was out for sunset shots the night before it looked like it would be a nice place to catch a light show. Unfortunately the sunrise didn't bring much color. Haze had been building overnight, a common occurrence in the Salt Valley during winter dry spells, but it made for some interesting conditions.

White Rock Bay Sunrise
After sunrise I drove around the island a bit to see what different places looked like early in the day. I spotted a couple of coyotes and pulled over to take some pictures, but they effectively kept their distance from me. I was just happy to see them. A couple years ago Utah passed a predator control law that pays hunters $50 for every coyote they kill. As an animal lover and proponent of the idea that mother nature knows better than man does, the passing of this law really upset me. Every time I see a coyote in Utah now it's special to me because I know those sightings will only become more rare.
I walked the very short Ladyfinger trail that overlooks Egg Island before heading back to camp. My tent was still covered in frost. I had until 2:00 to check out of the campground, and I intended to hike before I left so I left the tent up for the sun to work its magic. The Lakeview Trail connects Bridger Bay, where I was camped, to White Rock Bay. The trail is 3 miles each way, which sounded like a perfect morning hike. The haze had increased since the sun came up, but enough sun was out to warm me up and make for a pleasant hike. When I arrived at White Rock Bay I was surprised by how much the scene had changed in just a couple hours. The haze was really obscuring the mountains in the distance. I took a couple pictures, and couldn't believe how painterly they looked. I actually really like the way they turned out.

Hazy Morning At White Rock Bay
After a short rest I hiked back to camp and found that the sun had almost completely dried my tent. Sweet! It's the little things in life, you know? I broke camp and began the drive home, feeling refreshed and happy to have finally spent a night on the island.