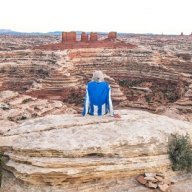 Joined

May 18, 2012
Messages

294
Mt Ritter and Banner had such big cliffs, throw in any lake called Iceberg, plus seeing photos of Minaret lakes - the combination had put the Ansel Adams Wilderness on my list years ago.
I'm pretty fit, but this time the combination of miles, elevation gain, high elevation air, 43lbs with camera, bear canister and food for seven days, plus middle age, had me doing extra training for the first time ever. Walking up 200 floors of my London office stairs with 40lbs worth of water convinced me I'd be ok. (my advancing years had also led me to abandon my past policy of throw everything in the backpack just in case, and regardless of weight, a la the book Wild, and for the first time carefully consider weight)
The extra winter snow meant we could not go over some of the passes as planned, but we still saw everything by going up and down drainages, but this took the miles up over the 50 mark for the week. But at least the snow benefited these photos!
Day 1, 2800ft gain with the packs full - but it was ok, a relief.
We camped at Thousand Island Lakes. Knowing I wouldn't sleep much, I made sure I was out the tent at first light.
The next day we just walked around to an overlook of Garnett If anyone was here after August and found a camera left there, one of my friends left it - I'm sure she'd be very grateful to recover it.
The second morning, sunrise provided clouds this time.
Wish I'd been at the spot of the photo below when I took the one above - then it would have been perfect
Leaving Thousand Island, Garnet looked even better from the other end
Unfortunately with no crampons we couldn't cross from Iceberg to Cecile, but we got to see them both the long way round - and it took us to a beautful waterfall campsite instead.
Wow, we'd been lucky with the weather. Not too hot, no rain.
Yet more beautiful sunsets and sunrises
A very early start to make it to Devil's Postpile before lunch and the milkshake and pumpkin pie I'd been dreaming of. I tortured myself my resisting the burger until the evening back in Mammoth. All the foods I don't care much for back home.
What a great trip...and aren't showers, beds and flushing restrooms good after a backpack!
Last edited: