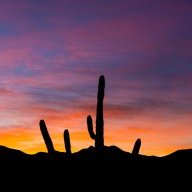 Joined

Apr 22, 2013
Messages

320
Just got back from 9 amazing days of Utah hiking... 83 miles total
Started out crossing the Utah border at Monument Valley, proudly showing off my BCP sticker
Finally arrived at my campsite just before sunset... and ironically could see Tomorrow's final destination at Hamburger Rocks.
Wasn't too impressed with Lower Muley Canyon... thankfully the Hamburger Rocks made the 19 mile trek with it.
Next day was Upper Muley Canyon, which did impress!
Leaving Upper Muley for the Rim Trail paid off as well... impressive views of the Waterpocket fold.
Next day was the Navajo Knobs. First day I started to actually see other people on a trail.
It was time to Leave Capitol Reef & head to Escalante to resupply.
First up was the Cosmic Ashtray.
Couldn't find it last year amid all the other peaks, this time I brought GPS coordinates which make things a lot easier.
Next time I'll show up later in the day, was really disappointed with the lighting.
Next was Big Horn Canyon, focusing mainly on the West Fork & Zebra slot.
Day started off with heavy rush hour traffic on the Hole-in-the-Rock road... huge herd of cattle decided to occupy the road.
Thankfully I was able to turn around & start the hike where Harris was crosses the Hole-in-the-Rock road just a few miles back.
Things started to close up quickly in the West Fork...
Time to leave Camelbak behind, although just for a little while, the slot quickly ends thereafter.
Went on top of the slot to get a good look of the mess I just squeezed though!
Having been satisfied with the West Fork it was time to wander up the main fork.
Time to wander down Harris Wash to Zebra Slot...
I soon ran into waist deep water...
Thankfully the water wasn't too cold & the pool wasn't very long.
Need to lose more weight!
Thankfully the tight squeeze revealed Zebra's magic just around the corner
Next was Kodachrome State Park. Nice to know warm showers await you after the hike!
Last day... legs are getting tired so I whimp out with some easy, but still fun hikes at Toadstools & Wire Pass Narrows.
I really hate this sign...
Featured image for home page: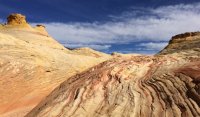 Last edited by a moderator: